10 Essentials to Make Family Movie Night Full of Fun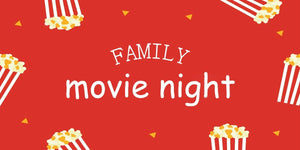 Family movie nights can be a lot of fun if everyone has a good time. Of course, there is something there for everyone to cheer for, especially the kids. Maybe you and your partner can agree on any movie as long as you both watch it together and enjoy it. But watching the same movie with your kids can be a whole new ball game!
Your kids most probably won't agree with your movie choice for the night. They want something for themselves! And of course, you want them to be happy and be a part of it as well.
Let's face it! You can't hit happy hour cocktails and sushi anymore because now you are parents. But you can still make your Friday nights full of fun but in a different manner.
If there is a tradition in your family, like a family movie night, then you are not going to need much. Popcorns, warm blankets and of course a movie that goes well with everyone in the house.
But if you are looking to make your movie night a whole lot of fun, then check out these ideas!
Top 10 Essentials for Your Family Movie Night
This is arguably the most important item on the list because if you don't have this then there is no point in having the entire event. Anyone can watch a movie on a laptop or on TV but if you want everyone to sit in one place and have fun then you will need a good quality video projector. And if you want to be a legend in your parenting circuit then you can project the images on a giant screen even outside.
Of course, you will need a good quality projector for that. Therefore, if you don't happen to own one then we strongly suggest that you should make an investment here and you will be the king of your cave big time!
#2 The Latest Hit or Your Family Favorite Movie
It is better for you to go for your family favorite movie, the one that is loved by everyone in your house. Another option for you to try is going for a recent hit that your family hasn't seen yet! Both these movies will keep every member watching the moving closely and everything will go out well according to your expectations.
But you have to choose the movie wisely here. If you are going for something new, then you have to choose it carefully. If your kids don't like it they might end up being bored or terrified out of nowhere. Make sure that your movie doesn't find them in troubling waters.
#3 Cozy Warm Blankets
The first thing you have to do for your family movie night is to round up the warmest, comfiest blankets for everyone. Of course, if it is summertime then you won't need that, but something plush would definitely do the trick. Any of those oversized plush velvet blankets with foot pockets will be great.
They are essential because everyone needs to be in their comfort zone with an entire focus on the movie.
#4 A Very Supportive Pillow or Cushion
The next key thing you must-have for your family night is a supportive pillow. You guys might start by sitting on a bed or a couch snuggling together, but eventually, someone of you will get tired and end up on the floor.
In such a situation, many of them are going to need a pillow or a cushion. It needs to have a supportive backrest and armrests. You need to place more than one pillow because you'll find many persons going to end up on the floor after a short while.
#5 Popcorn, Of Course!
Okay now, there are a couple of ideas that we are going to share with you here. First of all, if your family loves theme parks then you can go for those old-school kettle popcorn makers. That will not only animate things up but your kids will love it. And obviously, you are going to make popcorn, so why not add it as a décor to the entire movie event! You will definitely score a few points as a cool retro parent too!
Another throwback you can add here is 4 packs of Jiffy Pop. You can cook them on your stove just like when you were kids. Everyone will love this homage to life back in the day when there were no microwaves. And for a complete movie theater experience, you can also add those popcorn buckets.  Just fill them up to the full, have a seat and enjoy your movie while munching on these delicious corns.
#6 You Can Create Your Own Movie Tickets Here Too
If you are interested in making this family event a real one then you need to get your creative juices flowing. We are talking about creating your own tickets for the movie event. You can print out an online template or you can also grab some cards. When the time comes for the credits to roll, ensure that no one sneaks in and you have collected all the tickets for the show.
And then you can take it to the next level by rolling the red carpet for your guests with the help of your red blanket or something. Of course, you have invested in a giant screen and a projector, it is special and everyone needs to feel the same way.
#7 Lids and Straws for the Soda Cans 
Now that you have made your snacks, what have you thought about the drinks? You are looking for a perfect movie night with your family but you don't want to spill soda all over the furniture too! Therefore, you need to go for the soda can lid with straws. They are completely reusable and your kids will have those drinks with fun while your bed or couch stays dry.
#8 Why Not Give the Entire Event a Theme of Some Kind!
These days, it's all about immersive experiences and one of these in trend is the Secret Cinemas. However, you don't need to leave your house to enjoy all that. You can always give your movie night a twist.
You can get them to dress up and be in line for the coming evening. For instance, if you are planning to watch Moana then why not do some of those hula-skirts and have some cocktails. If you are really going for it then you can serve these cocktails in a coconut with some fancy umbrella straws. You can also do something else for any other movie you are going to watch. We bet your kids will love it!
#9 How About Staging an Intermission?
This will be a whole lot of fun for your kids as they will be looking forward to it but it's better to keep it a surprise or your kids will lose interest in the movie. You can always do that little pause at a cliffhanger moment and make some popcorn or drinks.
When everyone is refreshed and ready to get back on the adventure then dim the lights and get started with your movie again. This will serve to be a well-deserved break and no one will feel tired either.
#10 A Giant Projector Screen
Your projector is not going to be very helpful if you don't have that giant-sized screen to go with it. We are not talking about projecting the images on a clean wall. We are talking about the real deal here! If you truly wish to make your family night a fun night, then you need to go for a giant projector screen that will show the movie to your family just like cinemas do.
Now it is better for you to bring a projector screen that goes well with space and distance you have in the room that you are going to set it up. It must also go for the format of the media you are going to play on it. Everything you see on it needs to be clear and perfect. After all, no one is going to have any fun if they are not able to see what's going on the screen.
Final Thoughts
Family movie nights can be a great time for everyone only if everyone gets a piece of it. It is better for the kids to watch a movie but you can also make it a lot more fun by getting something educational out of it.
Ask your kids what have they learned from the movie or what could any of those characters have done better? Provide them with different scenarios and then ask questions.
You can also do this during the intermission and ask them about how the movie will go by from this point forward. You will really love those creative endings that your kids will come up with. And they might be even more interesting than the original movie.
Ask everyone about different ideas that they can come up with and try to blend them all in. This way you will be taking all the opinions and building hype for the event. Everyone will be waiting for the weekend to come and will be looking forward to doing all those things that were part of the plan.
Leave a comment
Comments will be approved before showing up.