Are Projectors Good For Gaming?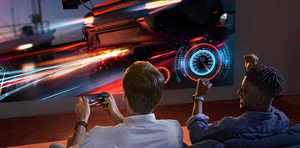 A gaming projector is an ultimate solution to experience gaming on a big screen. The system provides users with a wide choice of screens that are superior to those of televisions and is designed for those who love the Home Cinema Experience. Projectors deliver large, bright, and crisp pictures and also address one of the most critical requirements: minimal input lag for gaming. The massive display size and crisp image quality further enrich the experience of gaming on projector.
Suppose you wanted to play games on a screen of 120 inches? Would it be possible to utilize a projector for gaming? If you think a projector might not be a worthy investment as it may fail to meet your gaming expectations, you can put your fears and doubts aside. Making the right decision about the gaming projector can be aided by the following suggestions.
Gaming With A 5G WIFI Projector: Is It Worth It?
A 5G wifi projector is totally worth the investment as it provides a hassle-free connection without using any adaptor. When it comes to gaming, a standard projector will not suffice. Gaming projectors with a 5G wifi feature are becoming increasingly popular among gamers wanting a more immersive experience. Smartphones and laptops can all be synchronized across a connection using a wireless projector with a wifi module. There are no cables required. You can simply link the gaming projector to the same wifi network. VANKYO Leisure E30 is a high-end 5G WIFI gaming projector that is not only affordable but provides a hassle-free connection with its unique feature. Further, the users can easily align the images with the projector's electronic keystone correction.
Does a Gaming Projector Have Input Lag?
Yes, the gaming projector has input lag. Gaming latencies are one of the main concerns of gamers since they affect the speed of the projector. An input lag is among the most critical factors to evaluate when comparing projectors. This is the duration between the gaming system transmitting the signal and the projector receiving it. When playing fighting games on a projector, you need an input latency of at least 15ms. A poor-performing projector with high latency can ruin gaming quality and result in a crappy gaming experience.
Gaming With A Projector: The Pros And The Cons
1. 

Offers A More Cost-Effective Method Of Gaming

Considering display size, gaming TVs tend to cost more than gaming projectors of similar quality and functionality. For gamers, the most cost-effective projector is VANKYO Leisure E30. E30 can be purchased for a reasonable price, allowing you to project images that are up to 4 times larger than a standard 60-inch TV while requiring a 20% shorter throw distance. Professional gaming projectors are several times more expensive depending upon their specifications and giant size. The relative cost of E30 puts normal gaming projectors in the shade. You can easily buy an E30 for a lot less money as an entry-level and budget-friendly projector.
2. Delivers Better Immersive Gaming On Projector
Gamers are increasingly moving away from TV displays to leverage a better immersive experience through gaming projectors. For gamers, VANKYO Leisure E30 delivers a highly immersive gaming experience with full HD 1080P native resolution. E30 is coupled with all the necessary features such as an advanced color engine, a short throw for big screens, and a built-in surround stereo cavity to maximize the gaming experience.
3. 

High Refresh Rates, Wireless Screen Mirroring, And Low Input Lag

Modern game projectors offer ultra-high refresh rates that produce better results and better pictures than standard television. Most televisions are not suitable for competitive gaming for having considerable input latency. However, a projector frequently has minimal input lag while still costing less. Further, modern technology has enabled projectors to compete with the modern TVs of today in terms of high image quality specs, color depth, latency, and resolution. 
4. 

Optimized Gaming Experience

The high-end projectors for gaming are designed carefully to provide maximum big-screen experiences in the smallest possible space. In the on-screen display of gaming projectors, a sub-menu usually opens up that allows users to choose between fast mode and detail adjustment for more detailed graphics. They also offer a variety of gaming modes to facilitate an optimized gaming experience.
5. 

Reduces Eye Strain

Unlike televisions, gaming projector surfaces reflect light which is a big deal for gamers as they play fast-moving games for long hours. Projectors prevent eye problems or light sensitivity as they provide a large image that is easily seeable. Therefore, gamers do not have to stare at the pixels directly. VANKYO Leisure E30 comes with a high-end color algorithm. It has been coupled with the advanced technology of German LED light sources displaying exceptional color accuracy and fine details.
6. 

Provides Effortless Portability

It is much easier to move with a projector than a big TV or high-end gaming projector as long as it's not fixed to the ceiling. You can easily take it to your friend's house or outside anywhere. Latest digital projectors are significantly more compact, streamlined and lightweight than large-screen televisions, which have smaller displays than projectors. A fully functional gaming projector, on the other hand, can be difficult to move but the E30 is lightweight and blends well with any interior design.
Which Projector Is Best For Gaming?
A sophisticated and durable entry-level gaming projector that produces decent HD quality images is VANKYO Leisure E30. This is the finest home projector for Gaming and Entertainment as it is easy to set up and provides a hassle-free WIFI connection. Its internal stacking design and high-end materials make Leisure E30 60% lighter than traditional gaming projectors. In addition to the unique surround stereo cavity design, E30 delivers stronger volume output and more space from the cavity. The audio quality is superb, while the bass is deep and powerful. VANKYO Leisure E30 has the most comprehensive wireless screen mirroring capability that allows for smooth multimedia presentation. It gives users more mobility, allowing them to move it anywhere they like. You can cast videos, photos, and games from your phone or other Miracast-compatible devices to the big screen without adapters or other electronics. This gaming projector is more affordable than many professional high-end projectors.
Final Thoughts
Projectors are useful for gaming because technological advancements have led us to the point that we now have high-end ultra short throw projectors that can beam even in small spaces. Game projectors mainly depend on refresh rate, resolution, and latency. With our projectors, you will get outstanding features that will give you an excellent cinematic experience. You can display the video, images, or game in any resolution and frame rate you wish with leisure E30.
Leave a comment
Comments will be approved before showing up.