Best Art Projector for Tracing 2022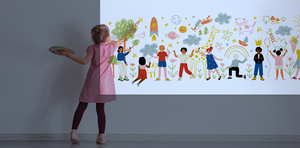 No doubt, art projectors are quite popular these days. These types of projectors are widely used by all types of artists irrespective of their skill levels. Photorealist painters generally make use of a tracing projector to create a large image from a small photo and transfer it on a huge canvas.
If you are looking for the best art projector for tracing 2022, we have something to share with you. Here, we have discussed the different types of art projectors. Besides, we have also talked about Vankyo Leisure 3, a popular art projector of the recent time.
But first, let's see how a projector can help tracing artwork. And then we will define the types of art projectors.
How a Projector can Help Tracing Artwork
Projectors are devices that project any type of image onto a wall or large canvas. Hence, you can easily enlarge a portrait or drawing by using a projector and create a larger version of that image. Furthermore, you can also use it as a guide for murals. So, Tracing or enlarging an image or artwork is much easier with a projector.
Types of Art Projectors
Depending on the working principle, we can divide art projectors into 4 different types.
Digital Projectors
Overhead Projectors
Slide Projectors
Opaque Projectors
1.
Digital Projectors
These types of projectors are also referred to as home theater projectors. They are cheaper and easy to use. And due to these features, digital projectors have been serving as a great choice for tracing art. You can trace any kind of imagery from all types of digital sources i.e. memory cards, computers, smartphones, and digital cameras.
For tracing purposes, you can use a LED projector, as they offer fantastic brightness. Hence, you won't have an issue while tracing an art. Besides, you don't even need a dark room for this purpose. With maximum brightness, you can enlarge the image to your desired size.
Pros
Simple installation
Works with almost every type of digital files
Allows to trace digital images without any hassle
Vankyo Leisure 3 Mini Projector
The Vankyo Leisure 3 is a popular digital art projector, which is an ideal option for art tracing. With ideal size, exceptional Full HD picture quality, and an impressive cooling system to disperse heat, it's one of the best portable projectors around.
Due to its compact size, you can take it anywhere with you. Hence, this particular Vankyo projector stands among the best portable projectors for art tracing.
Features
Listed below are the most notable features of the Vankyo-Leisure 3 Mini Projector, the best art projector for tracing 2022.
Outstanding Visuals
The visual performance of this portable projector is remarkable. This is so, as it comes with an MStar 'Advanced Color Engine'. The details and colors are amazing. Especially, it supports 1920x1080 resolution, which makes it an ideal projector for art tracing. Besides, the 2000:1 contrast ratio, and +40% brightness, are some of the most impressive features of this particular Vankyo projector.
Versatility and Compatibility
Leisure 3 is compatible with a wide range of devices. Hence, it allows you to enlarge any type of image through tracing.
Easy to Setup
Vanko Leisure 3 projector is relatively easy to set up. You just need a clear wall or ceiling. For art tracing, you need a white canvas.
Powerful Light Source
This mini portable projector has a strong light source, offering vivid, rich, and natural colors.
Innovative Cooling System
It comes with a unique and innovative cooling system for maximum heat dispensation.
Specifications
LED illuminated
Support 1920×1080
Contrast Ratio-2000:1
Variable screens sizes (32 to 176 inches)
Noise-suppression
9 to 16.4 feet Throw Distance
USB, HDMI, VGA, analog inputs
Innovative heat dissipation mechanism
Stereo speakers
TF slot accepts Micro SD memory chips
Portable and compact size
Price
The price of a Vankyo Leisure 3 Mini Projector ranges from $69.99 to $79.99, which makes it a lot more affordable for people. It is ranking Top Seller in video projectors, more capable and reliable than other portable options. Leisure 3 is truly the best budget-friendly projector to begin with.
2.
Overhead Projectors
These are the art projectors that are commonly used for art tracing. The image produced is crisp and clear. Hence, this type of projector makes tracing a lot easier. However, there is a downside as well. In fact, you can't use a digital file for this purpose.
On the contrary, you have to use the transparency of the image.  At present, you can use printable transparencies that are created by an inkjet printer or laser printer. Hence, before tracing an art you need to print transparency of your image or photo.
Pros
Makes tracing much easier
Easy to use
Affordable
Cons
Can't show colors
Limited uses
3.
Slide Projectors
Traditionally, photorealists use slide projectors when it comes to tracing art. With these projectors, they can easily enlarge an image by using a slide made of that image. Hence, they can easily trace the enlarged image onto a large canvas.
The modern slide projectors also work on the same principle. What you need is a clear and crisp slide of your desired image. With this type of projector, you can create an accurate and well-defined image on the canvas.
Pros
Creates a better image, making it easy to trace an artwork
Affordable
Positioning an image is easier with slide  projectors
Cons
Not suitable for tracing in a fully lit room
Works only with slides  
4.
Opaque Projectors
With an opaque projector, you can go for a large-scale painting. With this type of art projector, you can easily enlarge an image and trace its outline. These projectors work by throwing a bright light onto an opaque object i.e. a sketch or photo. As a result, opaque projectors create an enlarged reflection of an image.
The painters use this reflection to trace artwork and create a bigger version of it. Since these projectors aren't digital, you can't use a digital file. Instead, you need an image sketch or photo. This might not be that convenient when compared to digital projectors.
Pros
A suitable option for tracing enlarged images onto canvases or papers
Capable of projecting almost any type of image
Helps tracing damaged or old photographs
Cons
Lower image quality
Not compatible with digital files
Final Thoughts
After going through this guide, it would be much easier for you to find the best art projector for tracing 2022. Besides, we have also discussed the Vankyo Leisure 3, which is an ideal choice for tracing creative arts.
When taking into account the number of verified purchases, one can easily ascertain that Vankyo Leisure 3 is among the best-selling projectors on various e-commerce platforms. The main feature of this portable projector is the LED light engine and compact size. Besides, it is durable and reliable too.
So, if you are looking for a perfect projector for art tracing, Vankyo Leisure 3 is an option to consider.
Leave a comment
Comments will be approved before showing up.