Best Outdoor Projector 2022 Under $200 For Movies, Games, Sports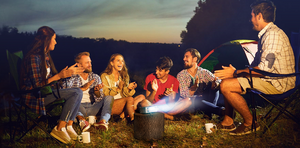 How can we create a magical theater? The best projector for outdoor use is the one that is available for any weather. The summer season allows you to enjoy al fresco movie nights, making an outdoor movie projector a necessity. Any backyard cinema room can be transformed with a solar screen, which creates the best cinematic experience in your garden at home. The smallest and most portable projector features integrated batteries.
The best mini projector is portable and has 5G WIFI capabilities, so you can enjoy Netflix while camping or have a backyard movie party. What's more relaxing than watching a movie and playing your favorite games from the comfort of your garden or rooftop? The use of outdoor projectors is gaining immense popularity. You can choose the best mini projector by comparing pricing and different other features as there are plenty to select from. Continue reading to learn more about the best projector for outdoor viewing and to figure out which aspects to look for when choosing the finest outdoor projector.
The technology and quality of projectors have advanced tremendously. It's feasible to achieve high-definition graphics and audio at home with the smallest projector, simulating a theatrical experience. The following are the most significant aspects to consider while selecting the best projector for outdoor use according to your needs.
1. Miniature Phone Projector With Groundbreaking Technology
 The small-size projector can provide you with a crisp, and clear image. Mini projectors are portable that take up little space. These projectors are handy and can project visuals onto any surface. With a 40% smaller size than other native 1080p projectors, the Leisure 470 Pro gets a size upgrade that makes it unique.
2. Brightness And Projection Type 
It is the strength of a projector bulb that produces a bright and clear visual experience. In a setting that isn't completely dark, a dim bulb might cause poor sight. High-brightness outdoor movie projectors are the best choice when there is a lot of ambient light. A VANKYO projector provides the best cinematic visuals with its bright and brilliant picture technology. It delivers exceptional clarity and vibrant colors with anything you play. The Leisure 470 pro enables consumers to experience their favorite movies and shows in more vivid detail during family movie nights, road trips, or camping.
3. Outdoor Movie Project Resolutions And Image Quality 
The resolution is a pixel-based assessment of overall image quality. At least 720p is required for a satisfying cinematic viewing experience outdoors or while camping. However, a resolution of 1080p is even better and considered the best projector for the outdoors. In simple words, the higher the number of pixels on an outdoor movie projector, the greater the resolution and image quality.
4. Versatile Connectivity Features And Accessories With Ultra-Fast 5G Wifi
When a device can connect or interact with other electrical and non-electrical devices or accessories, it is referred to as connectivity in today's digital world. Before buying a projector, ensure it's a 5G WIFI projector compatible with the Fire TV stick. 5G technology will enable it to play anything from Netflix, Amazon Prime Video, or other services. Similarly, the best projector for outdoor use is equipped with ports, allowing easy access to content from other electronic devices. USB ports are common, but HDMI and audio out are also available.  
5. Superior Sound Quality And Immersive Experience
Nowadays, outdoor movie projectors are fully featured with excellent sound quality. However, people usually improve the sound quality by setting up the audio devices separately. On the other hand, VANKYO Leisure 470 Pro comes with a built-in powerful 3W speaker, which has been considered a bonus because it delivers rich sound and an immersive experience.  
5. Knowing The Purpose And Environment For Using Outdoor Projectors 
Every place has its own set of circumstances for operating a projector outside. If you ignore factors like purpose, environment, and location, you can end up with an outdated projector having sound and visual issues, low visibility, or too many light problems. Consider your outdoor area, daytime, portability, and intent of use before buying the best mini projector. 
How Do You Watch Netflix On a Projector While Camping?
Fortunately, people who wish to watch Netflix while camping have different choices. Watching Netflix on a projector is as easy as streaming it on your television. Connecting a media device to the projector, such as a Fire TV, Apple TV, Roku, and many others, is usually necessary to watch Netflix on the projector. Almost any streaming device can be connected to the projector through its HDMI port if it has one. Luckily, the VANKYO Leisure 470 Pro is fully compatible with Fire TV sticks, Roku sticks, and other streaming devices to play video from Netflix, Amazon Prime Video, and Hulu through an HDMI connection.
Are Projectors Any Good Outside?
Portable projectors with an installed power supply are ideal projectors for camping and backyard movies. You can certainly run an extension cord through your backyard, which will be quite messy. The best portable outdoor projector for movies, sports, and gaming is Leisure 470 Pro. Its compact size makes it easy to carry anywhere.
Can You Use A Projector When Camping?
A portable projector can radically enhance movie and TV sessions. Have you not realized the immersive experience and the feel of home the outdoor camping projector provides while camping? The outdoor projectors can be used for camping, making picnics and road trips a lot more fun. They allow you to take a bit of comfort with you on the road. 
How Do I Choose An Outdoor Projector?
You need to laser focus on some of the key features of a projector to get the most out of your investment. Consider a factor of brightness since it will be crucial in creating a clean image in outdoor areas. It's recommended to check the contrast ratios and resolution because it will guarantee HD image quality that will work with most high-end televisions. You should also think about the cost factor. Always consider pricing, since some outdoor movie projectors might outperform their peers and provide excellent value. VANKYO Leisure 470 Pro is the best mini projector with affordable prices that covers all the specs and features needed for camping and backyard movies.
Vankyo Leisure 470 Pro: The Best Projector For Camping, Backyard Movies, Games, And Sports
For the price, the VANKYO Leisure 470 Pro is exceptionally elegant, with a smart-looking shell that makes transporting the smallest projector even simpler. It is a 5G WIFI projector that provides a hassle-free and stable WIFI connection with the latest ultra-fast 5G/2.4G dual-band WIFI technology. Leisure 470 Pro decreases the amount of direct light that enters your eyes. Its strong speaker offers loud and deep sound, allowing you to enjoy playing games or watching movies. The outdoor mini phone projector with full HD 1080p LCD provides a 30% brighter display than its peers. It is perfectly compatible with Fire TV sticks, Roku sticks, and other streaming devices to play video from Netflix, Amazon Prime Video, and Hulu through an HDMI connection.
Final Thoughts 
Watching a movie at home is more like sitting up on the couch with a bag of chips or popcorn. Nowadays, people are taking their entertainment outside where they may relax on a picnic blanket while enjoying their favorite shows displayed through a portable projector. For movie nights, summer events, or camping, our projector is the ultimate outdoor projector. Are you looking for a high-quality camping projector? VANKYO Leisure 470 Pro is the best projector for outdoor viewings because it provides improved brightness, simplicity of streaming, image sharpness, high resolution, and mobility for outdoor watching. 
Leave a comment
Comments will be approved before showing up.