Best Portable Projector for Travel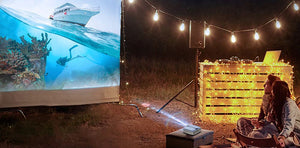 One of the most significant advantages of technological advancement for the consumer electronic market is portability. As time passes, component technology is exponentially smaller, and as manufacturing methods expand, they become cheaper and more available to all.
Projectors tend to be imagined as large devices that take a lot of time to set up and operate. Although this remains true with some projectors, the advent of technological advancement has allowed projector technology to become as equally portable as many other devices.
This article examines the differences between portable projectors and 'normal' projectors, looking at the specifications and features that make portable projectors unique. We'll also compare one of Vankyo's most popular portable projectors (the Vankyo Burger 101 Pico Projector) with its closest competitors. Finally, summarize with a list of features that make the Vankyo Burger 101 Pico Projector one of the best portable projectors available today.
Is a Portable Projector the Same As A Normal Projector?
Even though both devices have the same functionality and purpose, their target audience and use case are entirely different. In reality, portable projectors are changing the reputation that projectors have to be large, bulky, and less effective. They are devices that can fit in a normal-sized pocket and easy to set up; they do all this without sacrificing image quality over other features.
Unlike conventional projectors, portable projectors have a target audience that is more preoccupied with having access to a quality projector experience on the go. An average user of a portable projector focuses on the projector's highly portable & versatile features, including the ability to set up a quality projector experience in almost any context and without occupying much space.
Projector Portability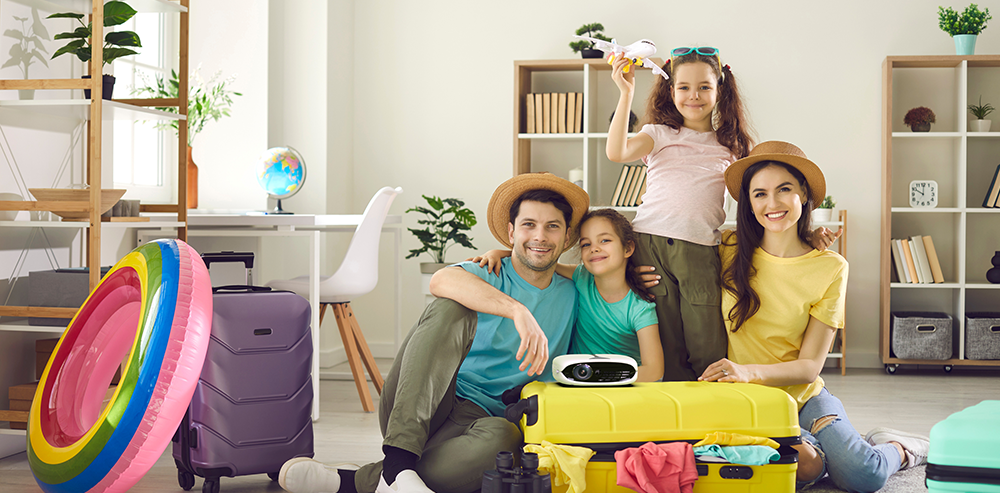 One of the most significant innovations in terms of projector technology is the miniaturization of components. A few years back, if you'd love to enjoy a quality projector in action, you are most likely to organize a specific place in your home, office, or academic environment. Projectors tended to be bulky, loud, and generally featured as a hallmark/feature of a room.
Today, projectors like the Vankyo Burger 101 Pico Projector permits users to carry a pocket-sized device everywhere they go. It's so tiny that you don't even require a dedicated space for it, as it fits perfectly on top of a table, couch, bed, book, and more.
The device gives you all the privileges to operate a tiny projector without worrying about the system of connecting cables because it was programmed with a last-longing battery; thus, the device is all accessible anytime – provided it is charged. Some of the significant advantages of portable projectors are listed below in order of specification, which explains most of the qualities observed in portable projectors today. And thus, aid handling and operating system when you finally get one.
Portable Projector Specs
Quickly let us examine each factor's significances in a suitable portable device, right before we consider the portable projector comparisons. The most common way to compare projectors is to look at their raw capabilities in terms of specifications:
Resolution & image quality defines the quality of the projected image in terms of pixel counts.
Ergonomics & design areparamount in ensuring a satisfactory experience.
Lux & lumeninclude light function, brightness, and effect/relationship with image quality & clarity.
Connectivity & media supportdefines the hardware & software connectivity of the device.
Affordability measures the "value for money" of the device.
Before an in-depth examination, what do Vankyo Burger 101 Pico Projector's competitors offer in varieties of specifications?
BenQ GS2 LED Portable Projector
The BenQ GS2 LED Portable Projector is a high-range portable projector with Bluetooth speaker capability. It's a VGA (480p) to Full HD (1080p) compatible device that uses extensive wireless features to create an integrated experience, perfect for the home. The projector's bulky design and large size make it so it can't compete with the Vankyo Burger 101 Pico projector's ergonomic portability. This projector's unique features are an integrated Apptoid TV app for convenient media integration and automatic keystone correction.
Sony MP-CD1 Portable Pico Projector
The Sony MP-CD1 Portable Pico Projector is Sony's most popular portable projector. It's one of the most miniature portable projectors available in the market and uses a simplistic - streamlined design that resembles a portable battery. It has a built-in speaker and average battery life up to 2 hours in continuous operation. It has a native SD (Standard Definition) resolution with Full HD (1080p support). This portable projector offering delivers average specs for a premium price, making it one of the less accessible projectors on this list with reasonable value-for-money.
Epson PowerLite 1781W Wireless Projector
The Epson PowerLite 1781W Wireless Projector is one of the high-end portable projector offerings from Epson. This portable projector has one of the best LCD lenses of all the offerings, including lumens output of 3200 that guarantees a sharp, bright, and clear image. The projector has a unique native WXGA resolution of 1280x800, with 1080p support included. It's the most expensive portable projector offering on the list, falling short in terms of ergonomics & design, as it has a square layout that makes it slightly cumbersome for travel.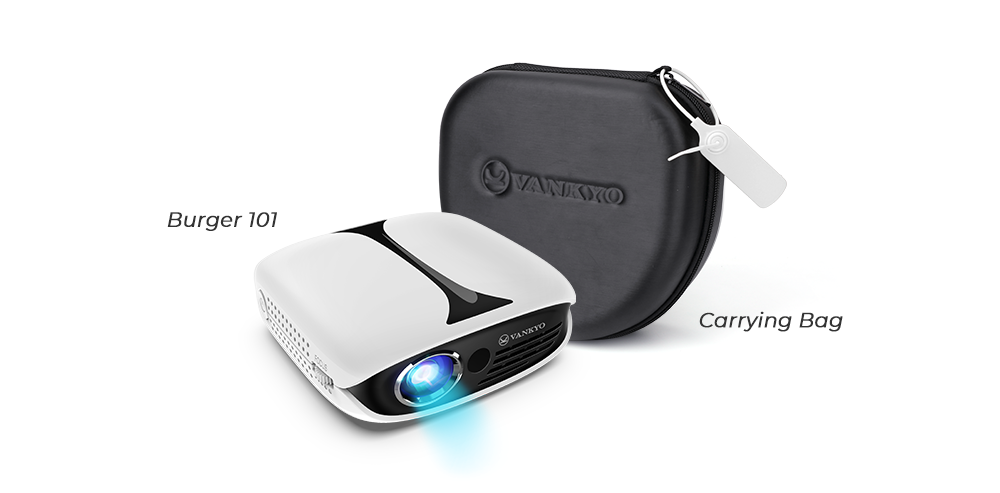 Now that we understand the Vankyo Burger 101 Pico Projector's main competitors, let's take a look at the different sets of specs & features that make the Vankyo Burger 101 Pico Projector special.
Resolution & Image Quality
The Vankyo Burger 101 Pico Projector boasts a native resolution of 854x480, which is impressive for a small device that can produce clear, crisp, and quality images at such high aspect ratios and distances.
The projector also supports 1080p high-definition (HD) media, which allows the projector to stay on course with most of its competitors by playing the most modern types of high definition media, including movies, pictures, videos, games, and presentations.
Ergonomics & Design
Today, the Vankyo Burger 101 Pico Projector is one of the most ergonomically sound-designed portable projectors. The design is highly curvaceous and somewhat resembles a burger, a feature from which the device originated its name.
The projector has a comparable size with its competitors; it differs from an original and durable design that makes it very travel-friendly and more portable. It's much easier to fit the round-edged Vankyo Burger 101 Pico Projector on any backpack than the bulky, cube-like design of most of its competitors.
Lux & Lumen
Even though the Vankyo Burger 101 Pico Projector lacks the lux & lumen fidelity of some of its high-end competitors, it still manages to come out ahead of some of Vankyos conventional projector offerings. The projector's 2600 Lumen is more than enough to guarantee a clear, crisp, and bright image at the recommended projection distances.
Connectivity & Media Support
The Vankyo Burger 101 Pico Projector has a varied set of connectivity and media support options that rivals and matches its competitors. It has an HDMI input port, a 3.5mm headphone jack, a power master (on/off) switch, a micro USB charging port, and a DC5v adapter output port.
It also supports most projector-friendly apps (applications) and has screen mirroring features alongside its laptop, smartphone, TV, TV box, TV stick, videogame console, and USB storage device support.
Affordability
In terms of affordability, the Vankyo Burger 101 Pico Projector beats most of its competitors. It sits somewhat in the middle, being a budget-friendly yet slightly high-end device that tries to encompass the best of both worlds. If you are looking for a quality portable projector experience without having to pay exorbitant premiums for features like 1080p resolution support, then the Vankyo Burger 101 Pico Projector is for you.
Vankyo Burger 101 Pico Projector Special Features
On top of its impressive set of basic specifications, the Vankyo Burger 101 Pico Projector has some remarkable features that make it stand out against most of its competitors. The Vankyo Burger 101 Pico Projector is one of the only portable projectors to boast full 3D effects support, for starters.
It also has manual and automatic keystone correction of up to 40º for those hard angled surfaces one might encounter with this portable projector. Its 5200 mAh battery is also one of the longest-lasting batteries for portable projectors, handling the portable projector's regular operation for up to 3 continuous hours.
The Linux OS (Operating System) of the Vankyo Burger 101 Pico Projector is also very advantageous. It allows the portable projector access to a variety of applications and screen mirroring functions that some of its competitors lack. All this is complemented with built-in WiFi for easy access to the internet.
Conclusion
In conclusion, we found out that the best portable projector for travel is the Vankyo Burger 101 Pico Projector. This is not only limited to striking a balance between portability, price, and specifications but also has one of the most travel-friendly designs of all portable projector offerings. The Vankyo Burger 101 Pico Projector even comes with its portable bag for easy storage and carrying during travel.
Leave a comment
Comments will be approved before showing up.