How to Pick the Right Sewing Projector?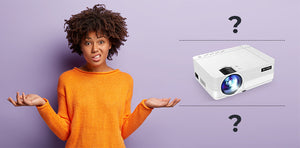 You must have heard about the sewing projector being used by the members of the sewing community, but have you ever wondered how you can use a projector for sewing? Or you know about the projector and would love to get one for yourself. However, the only problem is that you need guidance to know all about the different types of sewing projector out there and which one of them would suit your needs perfectly. Then keep on reading this article to choose the projector that will fulfill all your requirements.
What is a Sewing Projector and how can it help you?
A sewing projector is a kind of projector that displays the cutting patterns directly onto the fabric. The person using a sewing projector does not need to involve any tape, prints, or cut paper patterns. A sewing projector can display the sewing patterns directly by reading the pattern PDF. Sewing projectors are a great option to adopt a modern way of sewing and make your work easy but they are costly and involve a maintenance cost. Many people who do not have the budget for a sewing projector have used and set up their home/movie projectors in a manner that can work just like the sewing projector.
What features should you look for before buying a new sewing projector?
If you go and search for a "sewing projector" on Amazon, you will get numerous options to choose from. It can be confusing and overwhelming, but no worries here are some things you should consider before investing in a new sewing projector.
Native resolution: To be sure that the projector will provide you with a sharp image of your patterns you should choose the one with a high native resolution because even if the resolution of your files is high then it will be of no use without a high-resolution projector. Ideally, 720P is considered the best for a flawless experience.
Lumens rating: High lumens rating ensures high brightness. So using a projector with a low lumens rating in a bright room will do you no good. The higher the lumen ratings, the better.  
Power Source: Projector can run on both batteries and direct electricity. Choosing the projector which runs on battery power can eliminate the trouble of cords but if the battery needs to be changed often then it can be troublesome and irritating because reassembling the projector, again and again, can be a difficult task actually..
WiFi: Some projects can be connected through WiFi while others can be connected with your computer through wires. The WiFi projectors are much easier and comfortable to use but they are an expensive option.
KeyStone: KeyStone is a knob on the projector's surface. Using the keystone knob you can easily adjust and tilt your patterns according to your comfort. A keystone knob on your projector can be very useful if you want to hang it on walls or ceilings.
Remote Control: If your projector is mounted on your wall or ceiling then having a remote to control your Projector can be very useful. Use a remote to switch off or on your projector without getting into the trouble of doing it manually.
Size: When it comes to a sewing projector then size can play a very important role in deciding which one to choose. For the size issue, you can choose Ultra short throw projector for large rooms and large lengths and Mini projectors for smaller sewing rooms and small lengths.
How many types of Sewing projectors are there?
When it comes to sewing projectors they are of two types.
Ultra short throw projectors: Ultra short throw projectors are bigger and should be assembled on your sewing desk, these are comfortable and preferred to be used in a big sewing room.
Mini sewing projectors: Mini sewing projectors are smaller in size which makes them easy to assemble on your wall and ceiling. These are comfortable and can be effectively used in a small sewing room.
Your needs?
People have different needs while purchasing a sewing projector. Some people need a projector that will be suitable for small spaces while some people need a projector that is within their budget. So depending on space, cost, and comfort, a person will invest in a sewing projector.
Cost- The price of a sewing projector varies from its size to quality. The price of an Ultra short throw projector can easily be around $500- $600 but if you want to go with the cheaper option then you could choose Mini sewing projectors that cost around $100-$200.
Space- If you are purchasing a sewing projector as a part of your investment for your sewing business then you should go with Ultra short throw projectors. However, if you have a small working space then Mini sewing projectors are the best option for you.
Comfort- Easy to set up, adjust and tilt your patterns as per your comfort.
Leave a comment
Comments will be approved before showing up.