How to Set Up a Projector Claw Hanger?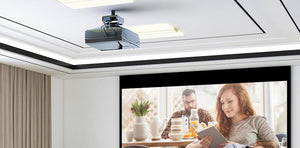 One of the most instrumental accessories for a permanent projector setup is the claw hanger. This projector mounting device is essential if you want to place your projector on an elevated position safely. Unfortunately, these mounting devices can be quite complicated to set up if you aren't very experienced with drilling and placing a few screws. In this article, we will see how to set up a projector claw hanger. We will also learn about the different types of mounts there are, how they work, and what you can do ion case your efforts seem to be failing.
What is a Projector Claw Hanger or Ceiling/Wall Mount?
The projector claw hanger or ceiling mount is an accessory for projectors that allows the device to be hung or placed on advantageous positions. Most offices or auditoriums use a wall or roof-mounted projector to achieve an optimal viewing experience. They work by using a simple claw or hook mechanism that holds the projector in place on its elevated position.
These ceiling and wall mounts come in many different shapes and sizes, and there isn't a one size fits all solution when it comes to clawing hangers either. These contraptions can be made from many materials, and they usually involve precise drilling and screw placement in order to be mounted safely. Thankfully, most claw hangers mount manufacturers provide very accurate and easy to follow instructions that make the installation process quite seamless.
Types of Projector Claw Hangers
There are 3 main types of projector claw hanger mechanisms, and all of them using the same principle, which allows your projector to be placed on an optimal place. The 3 main types of projector mechanisms are :
Ceiling mounts
Wall mounts
Ceiling + Wall mounts
Ceiling mounts can be installed on any hard-surfaced ceiling, while wall mounts are better suited for perpendicular surfaces like walls. Some mounts can also be used on a combination of wall and ceiling mechanisms, allowing the projector to move from one elevated position to another quite easily. Projector mounts also come in 3 different configurations that vary depending on the type of projector you want to mount.
1. Universal Mount
Universal mount is a type of projector claw hanger that allows for a wide variety of projectors to be placed within them. They come with adjustable locking mechanisms that can guarantee a safe and correct placement of almost any size of the projector. A big downside of universal mounts is their tendency to mostly work on generic projectors. Some brands tend to create unique cases and mount mechanisms built-in on their projectors, making universal mounts an inefficient and dangerous solution for projector to hang on.
We recommend you to check the specifications of your projector's dimensions before purchasing a universal mount. Most Universal mounts have compatibility guides that helps you decide if this type of hanger is adequate for your device.
2. Dedicated Mount
Dedicated mount is the preferred option for hanging projectors in the ceiling or wall if available. Dedicated mounts are custom-built projector mounts that are built to integrate only a small selection of compatible projectors. Their dedicated nature makes them one of the safest and most straightforward ways to properly install a hanging projector in a place of your choice.
3. DIY Mount
DIY mount is an interesting option for the creative types out there. There are plenty of online guides and models to build your own projector hanging mechanism. You can use any type of material as long as the mounting mechanism is safe to use. One of the easiest ways to build for projector mounting in walls is a box shelf setup. A few wooden boards can be placed on the ceiling or wall in a box configuration, with the addition of some drilling holes for cable placement, this is one of the cheapest and most straightforward solutions out there.
Best Setup for Claw Hanging Projectors
Sometimes creating the right setup for your home or business can be slightly tricky. This is why we have created a bullet point list that aims to help you install the most adequate setup. By following this bullet point list, you'll find the installation process of your projector claw hanger easier than you thought.
Purchase a claw hanger that is compatible with your projector.
Find an adequate surface in which to install the mount.
Acquire the necessary tools (e.g. screwdriver, drill)
Proceed with the mount installation.
Secure the projector within the mount.
Tidy up any hanging wires or cables.
Test your new wall-mounted projector.
Tweak the scalability, focus, and keystone features of your projector if needed.
Sit back and enjoy your new viewing experience.
What to Do if the Claw Hanger Doesn't Match the Projector?
If you find your claw hanger doesn't match the projector, something might be wrong. Remember always treating the projector claw hanger installation with care, as hasty and improvised movements and fixes can cause the projector or the claw to fail in a destructive fashion.
1. Check for Overheating
Overheating is one of the most common sources of problems when it comes to projectors. When it comes to mounting your projector into a claw hanger, overheating may cause various issues. The thermal expansion of most materials when heated can cause stresses on the projector mount, this is why we recommend you place your projector in a cooler room with proper ventilation. Keeping the projector off as idle may also greatly extend the life cycle of your device.
2. Check the Claw Hanger Assembly
A time tested method for checking any crafting mistake is to look at our assembly work. Make sure the projector mount is properly installed, if using a guide or a manual, go through all the necessary steps and double-check that everything is in place. Sometimes a few loose screws or poor drilling can cause instability within our claw assembly.
3. Check the Weight of the Setup
The weight of your projector and mount are a very important factor of any setup as well. This appears especially evident if you are using a universal mount with an incompatible projector. Make sure the combined weight of your projector and accessories does not exceed the recommended parameters. Even a projector that is slightly heavier than what your mount allows may cause issues like warping, material deforming, and loosening of the assembly.
4. Re-evaluate Your Mounting Surface
Your mounting surface, be it a cement wall or a wooden beam on the ceiling. This is one of the most important factors when hanging the projectors. Some materials are harder to drill into than others, and some materials are more prone to structural failure than others. In this case, you may have to drill into a sturdy, durable, and well-maintained material.
Wood is a great material because it is easy to work with and is able to hold screws really well. The only downside with wood is the ample variety that can be found on most structures that incorporate it. Wood that is old or moldy should be avoided at all cost, as its structural integrity might be compromised, this can lead to the disastrous outcome of your screws loosening up and the entire assembly falling to the ground.
Cement walls are also great for mounting projectors. Be sure not to drill into any reinforced area of a wall or ceiling in order to avoid an almost impossible drilling job. Try to avoid fake walls made out of plaster as well, this material can be prone to cracking if not properly constructed. Be sure to double-check the integrity of your screws before mounting the projector into a cement wall, you can do this by tightening the screws as much as you can without applying considerable force.
5. Contact Customer Support
One of the safest ways to deal with the issues is to contact customer support. This is a very useful path to follow if you have purchased a dedicated mount for your projector setup. Even if you don't have one, all projector manufacturers and most sellers have professional customer service specialists who are ready to help you with any trouble you encountered.
Conclusion
Installing your projector in a claw hanger is one of the most efficient solutions for locating your projector in a safe and comfortable place. The hanged projectors offer a great viewing experience without the hassle of having to set up the projector in an awkward corner or table before use. Mounted projectors offer a semi-permanent solution that is very useful for those who use their projector regularly.
From this blog, we have figured out some of the best ways in which this can be done safely and effectively. We have also learned about the different types of mounts that are available, as well as the effects different surfaces might have on any mount installation. If you are encountering issues when installing your projector claw hanger, make sure to check our list to find out more.
Leave a comment
Comments will be approved before showing up.