How to Update Mini Projector Software?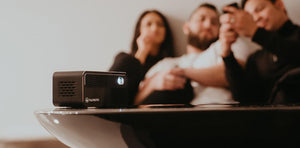 A projector is at the center of any home entertainment/media room and with the situation we're currently in, projector usage is going through the roof. It is therefore important that you upgrade your projector and update the firmware from time to time, especially if it is being used frequently. However, there is nothing worse than being stuck with a projector that failed to upgrade and won't start working, particularly when you are enjoying a movie night with your family or friends. That is why we'll be detailing ways you can fix your projector if the system fails to upgrade.
Whether you are tech-savvy or the exact opposite, by simply following the steps mentioned below you'll soon have that projector up and running.
Reasons to Upgrade Your Projector Software
Before getting started when your projector fails to upgrade, here is a list of reasons for you to realize why you should update your projector's software:
1. New Software Come with Bug-Fixes
A projector that has been with you for a long time is bound to run into problems after a while. Issues like certain parts of the screen blurring out or messed up the colour composition of the videos you try to play are pretty common.
Manufacturers usually send out software upgrades that help resolve these issues. Especially with the way technology is improved day by day and movies/TV Series are using the latest camera equipment for the best image resolution; it can be hard for your projector, particularly if it's an old model, to completely support the 4K resolution of movies that being produced these days.
Similarly, sometimes there can be certain errors or bugs that may influence a projector's performance. A firmware bug can easily impact the display quality of the projector. Usually those bugs are reported by users and these issues are quickly resolved and fixed in the latest releases of a projector's firmware. This is exactly why it is a good idea to keep your projector updated with the newest firmware released by the manufacturer.
If your projector failed to upgrade or started causing problems while updating, you may have the wrong firmware version of it. Or it may be because your projector is not compatible with the new firmware release, depending on how old your model is. To avoid such issues always keep your projector up to date with the latest software releases by checking whether the software is compatible with your projector's model.
2. Software Upgrades Can Improve Product Performance
As mentioned above, software upgrades not only come with bug fixes, which resolve any issues that may have been troubling your projector, but also help to improve the performance of your projector overall. If you've been seeing any delays in your projector boot-up phase, frozen images or video, some lags here and there, or too many error messages that are annoying, then your projector is in need of an upgrade.
Not updating the software in time can affect the performance of your projector over time as well, which is why when the latest software upgrade is released, be sure to get on the upgrade bandwagon and don't delay it. Just like making sure that the projector is safely installed and mounted far away from the reach of kids around the house, upgrading your projector is the equivalent of making sure that the engine doesn't start running bad. It usually doesn't take a lot of time to update the projector and the sooner you start it; the better because that watermark from the manufacturer that ruins the movie or the color composition that seems off will resolve itself and you'll see more clarity and coherence in the videos or images being displayed.
3. Hardware/ Software Configurations
Technology in this day and age is rapidly improving and changing, with new refinements in image resolutions and technology being churned out with lightning speed. So you can imagine how hard it can be for your projector to keep up with these updates if it is a few years old. That doesn't mean you have to get rid of the one you have and spend money on a new one. Most manufacturers release both hardware and software configurations that can work with the newest video features like 2K or 4K video resolutions.
Similarly, if you use any of the set-top boxes like Apple TV, Roku 3 box, and Google TV then upgrading your projector with the latest configurations will allow you to easily connect your projector with them. If you're facing any connectivity issues or display issues, the latest firmware updates by your manufacturer will usually contain the fix for those errors, and by upgrading your projector on time with the latest software, you can avoid any hassle later on. Maintaining both the hardware and software of your projector is vital to make it last longer and perform well for all the movie binge nights you have planned either for yourself or with your friends.
How to Update the Projector's System?
Having analyzed reasons that you should upgrade your projector system. You may have some clear understandings. Up to next, let's begin the process of upgrading your projector.
Method1: Upgrade Your System through WiFi
Before start, the manual should be with you in case something is wrong or just simply because you are not familiar with it. The process of upgrading the projector system may vary due to different types of projectors. Therefore, the manual is quite important in this case.
Get connected to Wifi and make sure it runs smoothly (Under normal circumstances, the latest version of the upgrade will pop out for you to upgrade. However, if it doesn't, you may come to the following steps)
Enter into Advanced Setting< click on setting < select Checking Update
If the latest system upgrade is available, the device will begin to download it
Once the latest system is downloaded, the device will automatically shut down and start to upgrade. (Please Note: the proper adapter is required when upgrading)
Turn on the projector and the system is on its latest version
Method2: Upgrade Your system with a USB
Apart from updating your system with Wifi, there is another option for you to get your projector upgraded.
Step 1: Check What Version of the Firmware You Have
Before you begin any firmware update it is always important to know two things:
Your current firmware version.
The latest firmware version.
If you have an older projector that hasn't been updated in a long time you may have missed a few software releases which can harm the performance of your projector if you directly jump over to the latest version.
Therefore, knowing your current firmware version is highly important because you may have to upgrade your projector in increments till it reaches the latest version. In order to know the current firmware version of your projector, simply press the menu button on the remote or control panel for 15 seconds. When the OSD menu appears go to the "Information" section to find out the current firmware version and voila! You've got it.
Step 2: Download Projector Software from Your Projectors Product Page
After successfully figuring out the firmware version of your projector, head on over to the manufacturer's online website and go over to your projector model's page. By a bit of browsing around you'll find the system update for your projector along with all the necessary file information you'll need.
Once you confirm that you haven't missed any upgrades, click on the downloadable link of the latest firmware which is available on the site on your desktop. Before the download, make sure you have enough disk space and capacity to begin the downloading process as well as a good internet connection as these firmware updates are usually large files that take time to download.
Step 3: Connect USB Storage Device
After you've successfully downloaded the firmware file on your computer or laptop, extract the file from the downloaded compressed file, and then you can start transferring the file over to your USB.
Again, make sure you have a USB with ample space on it to make the upgrade successful. Another good tip is to have no other content stored on the USB while transferring the firmware so that the projector can immediately detect the firmware version and start the upgrade process.
Step 4: Upgrading & Setting Up
Now we're on to the main part of the process: The Upgrade.
Since your projector has the right firmware version currently installed, you've successfully downloaded the latest software updated and transferred it over to the USB. Now you can move onto the installation process. Remember, following these steps is essential so your projector doesn't fail to upgrade.
Make sure the projector is turned off.
Remove any USBs attached to it.
Plug in the USB with the firmware version.
Turn on the projector and wait for On/Standby indicator blink green and then amber.
The amber indicator means the update process has begin automatically.
Once the process is complete the On/Standby indicator will turn red.
Remove the USB and turn on the Projector.
Check the current firmware version to confirm the update is complete.
What to Do If the Projector Fails to Upgrade?
If your projector failed to upgrade during the update process, it may due to a number of factors including power loss, removal of USB or the projector may be turned off. To ensure that your projector upgrades successfully, do not remove USB or projector from the power supply as this can cause malfunction and the projector will fail to upgrade.
It usually takes 20 minutes or more to complete the entire process, so make sure no interruptions are created while it is updating. If you still experience issues while upgrading and your projector keeps running with problems and fails to upgrade, contact your manufacturer for help and they'll get to the root of the problem.
Final Thoughts
Maintaining your projector isn't hard if you keep on upgrading it from time to time and keep it updated with the latest software update. We hope this article will help you figure out why your projector fails to upgrade and what you can do to prevent it. By following the mentioned steps above, your projector will upgrade successfully and the chance to come across this kind of problem may reduce accordingly.
Leave a comment
Comments will be approved before showing up.