How to Choose the Right Resolution for a Vankyo Projector?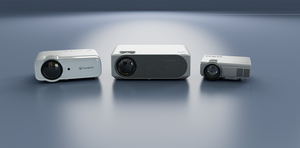 What is Projector Resolution?
Native Resolution, also called, Resolution is the number of pixels or individual dots displayed to produce an image – a projected one. Technically, the projector fits the pixels into position, creating an enhanced or reduced image quality. Thus, the higher a projector's resolution, the more the number of pixels used to create an image.
Before you buy a projector, the resolution is one of the significant factors you should check out to determine its efficiency for a task. Unfortunately, not many people know what a projector resolution is and why it is important; hence, the reason for this article on Vankyo Projectors.
Types of Projector Resolutions
If you are going for projector resolutions, you should at least know that there are four types present depending on quality. They include Standard Definition, High Definition, Full High Definition, and 8K. Each of these resolutions is designed with different pixel numbers and aspect ratios to provide excellent quality and view.
Standard Definition (S.D)
These are regular projector resolutions for home theaters. Standard Definition Projectors have a similar aspect ratio of 16:9; hence, image quality is decent. The various types go thus:

720p: The most basic projector resolution suitable for personal home use is the 1280 x 720 pixels. It is quite economical and decent to view media content. The 720p HDTV is an alternative device to produce similar image quality.

FHD/1080p: A more convenient format for better image production, however with a similar aspect ratio as the 720p is the Full High-Display or 1080p. A projector with a 1920 x 1080 pixels resolution is quite standard if you would like to set up a home theater. The 1080p HDTV is an alternative device to produce similar image quality, even as Blu-ray formats.
High Definition (HD)
Going further, High-Definition Projector Resolutions are a lot better than Standard. They have higher aspect ratios, making them more visible with good quality. They include;

SVGA: Super Video Graphics Array, popularly known as SVGA, is a set of video standards designed to provide higher and better resolution. It is one of the oldest resolutions for projectors with 800 x 600 pixels (4:3 aspect ratio). The monitors can display over 16 million colors to describe how efficient and high-quality they are.

XGA: A more modified home projector resolution is the Extended Graphics Array, also called XGA. Unlike the low-resolution SVGA, it is a high-resolution video display mode with 1024 x 768 pixels (4:3 aspect ratio). It also produces more color and comes with monitors with interlaced displays.
Full High Definition (Full HD)
The next set of projector resolutions are even higher in quality and display than the High-Definition Resolutions. They include the following;

WXGA: XGA was only a foundation for more incredible graphics projector resolutions. For instance, the Wide Extended Graphics Array, WXGA, is a modified version with incredible quality and performance. It has a higher resolution of 1280 x 800 pixels (16:10 aspect ratio). It is the most appropriate choice of resolution for widescreen images due to the increased number of dots. Surprisingly, it is a beginner-friendly projector for business or professional or educational purposes.

WUXGA: A more advanced XGA projector resolution (even better than the WXGA) is the Wide Ultra Extended Graphics Array, WUXGA. It is almost as descriptive as its name; you can only expect it to give a wider view. It is the next highest resolution after the 4K UHD, with 1920 x 1200 pixels (16:10 aspect ratio). It is a suitable projector resolution for large, open spaces or workstations that need a high-definition display.

4K UHD: The 4K Ultra High-Display is the highest resolution you'll ever come across. As it is called, it the most advanced due to the clarity and quality of images produced. It has 3840 x 2160 pixels (43:27 aspect ratio). Since it is a full high display, they are only suitable in places that need a well-detailed display of the information on a screen. Surprisingly, they aren't so hard to find on the market.
8K and Beyond
The last set of projector resolutions is that above 8K. They are ultra, full high-definition that provides a more cinematic experience at home. Interestingly, 8K projector resolutions are not always difficult to find; they are readily available on the market.
Choosing the Right Resolution for Your Vankyo Projector
Vankyo projectors are extraordinary, and it is with no doubt that the brand pays so much attention to features and specifications. For instance, the resolution is a distinguishing factor between several models available; thus, choosing what's appropriate for you depends on that. If you would like to choose the most suitable projector resolution available, you need to consider the following.
How Will You Use the Projector?
If you would be buying a projector, you need to know how to use such a projector. Vankyo Projectors are in different types depending on their resolution types; however, the higher you go, it becomes a little difficult to set up or handle. Therefore, you should always consider going for what is appropriate and easy for you to handle so you don't have problems with connectivity.
Evaluate Projector Categories
Before buying a projector, you need to consider different things; the projector categories are a significant factor – S.D, HD, Full HD., & 8K. You shouldn't just go for any projector because you need one; instead, you should pick the appropriate resolution for a designed purpose. If you need a more cinematic experience, having a standard definition may only do so little; on the other hand, an 8K gives a more realistic effect.
Choose the Right Projector for You
Another factor is the place where you plan to install the projector. If you have a small room, buying an 8k projector may not be the best decision you'll make because it overwhelms the entire space. Likewise, buying a standard definition resolution projector for a large room isn't logical either. Therefore, you have to consider using the projector and the room size before choosing what's appropriate for you.
Vankyo Projectors & Resolution
Vankyo Projectors are classics. Check out below for the few projector types available on the market on account of their resolutions.
Vankyo Leisure 3 Mini Projector
Vankyo Leisure 3 Mini Projector is a Standard Definition Resolution multimedia portable projector. It is one of the most home-friendly choices not because of its small size, but it offers a decent screen size; hence, it guarantees a good viewing distance. It is supported as a 1920x1080 resolution with a 2000:1 contrast ratio for good home entertainment.
This Vankyo Projector uses an MSTAR Advanced Color Engine for good LED lighting and 40% brightness for excellent visibility. It also uses a ceiling mount and a remote controller for easy control anywhere in the room. Lastly, it has a built-in noise suspension system to ensure a noiseless experience while watching movies, playing games, or streaming videos.
Vankyo Leisure 430W Pro Projector
One of the best home outdoor experiences is a High Definition Display like Vankyo Leisure 430W Pro Projector. This device produces an incredible image quality with topnotch brightness and superior color contrast. With this projector, everything you would see on your screen is seemingly original.
Vankyo Leisure 430W Pro Projector connects seamlessly with most mobile devices and offers a WiFi synchronization feature for easy connectivity. Its portable design also makes it easy to carry and mount from one location to another. Finally, it projects an image on a big screen while having a built-in speaker and noise depression system for more quality sound.
Vankyo Performance V630 Projector
An overwhelming Full HD projector resolution with impressive quality and performance is the Vankyo Performance V630 Projector. It is an admirable choice with a 1920x1080 resolution and a 3000:1 contrast ratio. It also offers 50,000 hours of lamp life, making it a good choice for home entertainment.
Vankyo Performance V630 Projector utilizes a 300-inch mega protection screen for more advanced viewing, with electronic keystone correction technology for noise depression and heat dispersion. Overall, it is a flexible projector choice with easy connectivity to a wide range of devices following its VGA, AV, HDMI ports, etc.
How to Purchase a Vankyo Projector with the Right Resolution for You?
Buying a Vankyo Projector with a specific resolution isn't always difficult. These projectors are readily available on the market; all you need to find is the perfect store. Vankyo has its online store – to sell different models and resolutions for projectors. It is always every shopper's choice.
Online Stores like Amazon and eBay are also great places to visit because they are reliable. They have projectors with good warranties and topnotch qualities. Thus, plan your budget for a Vankyo projector resolution, and shop when you are ready.
Conclusion
Not many people know why a projector resolution is important, so there was a need for a comprehensive guide like this. Having a projector is beyond displaying an image on the screen because you want a more enhanced view. With the perfect resolutions or standard definition video quality and aspect ratio, your viewing experience may never be the same as it used to anymore.
Leave a comment
Comments will be approved before showing up.