How to Update Projector Apps?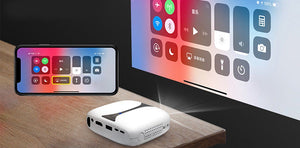 Modern projectors are very versatile machines that have been fully integrated with smart computer technology. Most modern projectors operate through some types of mobile operating system that uses applications (or apps) as the main way to access the projector's features.
We know that sometimes updating or learning how to manage these operating systems and their apps can be challenging, which is why in this article, we will focus on the main question: How to update projector apps? We will have an in-depth look at projector apps, and we will go through some common troubleshooting tips that can help you enjoy your projector experience to its full potential.
What are Projector Apps?
Apps or applications are computer programs that are designed to run on mobile devices. They are a key feature of any mobile device, allowing the powerful hardware to use most of its features in a creative way. Because projectors tend to use a mobile operating system, they usually run mobile apps or variations of them in order to function. Below are some of the most commonly used apps for projectors:
Video streaming apps.
Image streaming apps.
Office presentation apps.
Screen-mirroring apps.
Types Of Projector OS
Most projectors use a mobile operating system (OS) to run their features. The most common type of mobile OS found in projectors is Android, google's open-source Linux based operating system. Android is a very versatile operating system that is highly customizable and compatible with almost any device. iOS, Apple's proprietary operating system, doesn't usually show up in projectors, but most porjetcors have compatibility features that allows them to run iOS apps from a connected device like an iPhone or an iMac.
Understand Your Mobile OS
We recommend that you become comfortable with using the operating systems inside your projector and in your streaming devices (e.g. smartphones, tablets, PCs, laptops). Always make sure that your operating system is updated and running smoothly, as this will help any device running the operating system operate seamlessly and accurately.
The manual that comes with your projector or streaming device is usually one of the best ways to get comfortable with your operating system. Most modern manuals are beautifully structured and labeled in a way that makes learning about your device a simple reading task. If you can't find your projector manual or you have lost it, we recommend checking online with your seller or manufacturer, you will surely find it through one of their official sources.
Best Way To Update Projector Apps
Updating your projector or streaming device apps is a simple task that is usually done automatically by most manufacturers. However, we know that some people might be experiencing issues with manual updates or update settings, which is why we have compiled a small troubleshooting list with some things to keep in mind while updating your projector's apps.
1. Get The Right Setup
Getting the right setup is very important when you are planning on updating any software inside your projector. Make sure the projector is running smoothly and is not overheating, have your projector connected to your home network and make sure that it is working properly. It is always very important to keep your streaming device handy just in case you need to check any sort of info about the desired app updates and its compatibility with your projector. Now its time to learn to navigate your projector settings.
2. Learn How To Navigate Your Projector Settings
Navigating your projector settings will allow you to access most of the features inside your projector, it will also help you to tweak certain settings to better suit your desired viewing experience. We recommend accessing the settings of your projector to search for wifi or internet connectivity, as well as software updates. We recommend you look for the update section of your settings page, and see if any auto-update functions are disabled or enabled. Normally, tweaking the auto-update function on and off can fix any issues with apps not wanted to be updated or to be downloaded properly.
3. Learn To Navigate Your Streaming Device Settings
It is very important to learn to navigate the settings within your streaming device. On PCs and laptops, most programs and apps will ask for your permission when an update is required. On mobile devices like smartphones and tablets, navigating your settings is necessary in order to find the wifi, projector, and screen-mirroring settings.
We recommend that you search the update section of your main settings page, look for the auto-update functions, and check if they are disabled or enabled. As tweaking the auto-update function on and off can fix any issues with apps not being downloaded properly.
4. Download And/Or Update The Apps
Once your projector and/or streaming device are properly set up and connected to the internet, you can download and update and required apps. Android normally uses Google's Play Store in order to handle app downloads and updates. Tweaked Android operating systems like those most commonly found on projectors tend to use their own app store and updating functions.
5. Test Your Results
Now that you have downloaded and installed your apps, it is time to test them. Find the app icons in your projector's home screen or your streaming devices desktop window, once you have found your desired apps, run them to see what is the current firmware version installed. You can usually find this feature in the about page of most apps.
What to Do If You Can't Update Your Apps?
Sometimes there are unexpected issues we might encounter. When we have tried to update our apps in multiple ways but it still seems like something is not working properly, there are few things you can do and keep an eye out to try and fix your problem. We have compiled a list of some of the most overlooked fixes you can try to update your apps.
Method1: Transfer The Apps From A Different Device
You can always update your apps through a transfer method. For this to work, your projector will need to be compatible with your source device, and it will also need to be equipped with a USB port. Most apps can be downloaded into a PC or laptop and then transferred to the mobile OS of our choosing. Make sure your devices are compatible, as some brands like Apple tend to use a proprietary OS that might not be compatible with most projectors.
Method2:

 

Test Your Internet Connection
Your home network can be the main cause of the issue. An unstable internet connection can cause many issues with operating most modern smart devices. We recommend using an internet speed test to check the quality of your internet connection. There are several online and offline tools that are built especially for this purpose. Here are some of the most common tools for you to test your network speed and stability:
Online speedtests like speedtest.net.
Dedicated programs like NetLimiter.
Method3:

 

Check for Overheating
As it happens with most electronic devices, overheating can be the cause of many issues. When a projector or streaming device operates for a long time and its components don't get a chance to properly regulate their temperature, features can start to work improperly. Always make sure that your projector fans are free of accumulated dust or debris, and try to keep your projector in a well-ventilated area.
We also recommend you to keep an eye on your streaming device. If your smartphone, laptop, PC, or tablet is overheating, you can expect to run into many types of issues. The following are some of the most common issues that caused by overheating:
Slow performance.
Difficulty connecting to the home network.
Freezes.
Lag.
In extreme cases, components can be damaged permanently.
Method4:

 

Contact Customer Support
If you feel like you can't get around your problem of updating and managing your projector's apps, you can always contact customer support. Most major manufacturers and sellers will provide you with customer support assistance in case of any failure with your device.
Most customer support services use trained professionals, technicians, and advisors that can help you resolve your issue with ease. Always be sure to check the state of your warranty before contacting customer support, as this will guarantee a high-quality service that oversees the solutions to most technical and hardware malfunctions. 
Conclusion
Apps are instrumental in the toolkit of any modern computing device, they are the programs that give life to the hardware that we are using, and their constant development and fine-tuning means that they are on a constant state of evolution that requires persistent and thought out updates.
So when it comes to how to update projector apps, we have learned that understanding your operating system and their settings is essential. We saw some basic troubleshooting tips for anyone looking to update or download any apps into their projector or streaming device. We also shared a few tips and tricks that help you when the projector is failed to be updated. We hope you may find the blog helpful to deal with any problem when upgrading the projector.
Leave a comment
Comments will be approved before showing up.