Why Projector Brightness Matters & How to Increase It?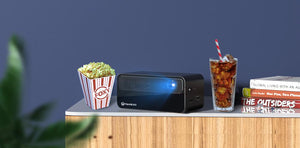 The brightness of a projector is one of the most important factors to consider when choosing a model.  It is expressed in ANSI lumens or lumens and is a major selling point in most projector marketing brochures or product descriptions. Why is this so?
At the simplest level, the higher the brightness of a projector, the brighter the image it will produce. So, all things being equal, a projector with a high lumens rating will deliver sharper, crisper images than one with a lower rating.
ANSI Lumens Explained
Lumens are the unit of measurement for calculating the level of brightness from any light source.  The ANSI abbreviation stands for American National Standards Institute. The light source in a projector is the lamp; therefore, brighter and more powerful lamps will deliver better images.
However, it is important to remember that ambient lighting can have a big impact on the overall brightness of a projector regardless of the documented ANSI lumens rating.
How Does a Projector's Brightness Compare to Other Light Sources?
For a clearer picture of the ANSI lumens measurement, here are some examples of other light sources and how they measure up:
Sunset – 400 lumens
100-watt light bulb – 1600 lumens
Candle – 14 lumens
Well-lit office with fluorescent lighting– 400 lumens
Average movie set lighting – 1000 lumens
Sunny afternoon – As much as 100,000 lumens
A projector –500 to 10,000 lumens
Why Does the Projector Brightness Matter?
The brightness of a projector determines just how much it will be affected by ambient light. It also determines how further away from the screen you can be to enjoy the viewing experience.  Images from projectors with lower brightness levels are best viewed in dark rooms.
Here's a rough guide on the projector brightness level required for each ambient light situation:
| | |
| --- | --- |
| Space Condition | Projector Brightness Required |
| Dark living room |  1,500 to 2,000 lumens |
| Enclosed spaces with dim lights | 3,000 lumens |
| Outdoors at night | 3,000 lumens |
| Enclosed spaced with moderate lighting | 5,000 lumens |
| Lit living room | 4,000-5000 lumens |
| Commercial movie theatre | 20,000 lumens |
While judging a projector's brightness, keep in mind that the brightness rating is for the projector's peak performance. As it ages, the brightness will continue diminishing, until the lamp can only give out around 50% of the advertised brightness levels. Similarly, running your projector on "eco" or other similar power-saving modes will reduce the brightness output.
To understand how projector brightness works, think about your car headlights or your phone's flashlight. Both light sources look more powerful as the lighting condition darkens.  It is impossible to miss car headlights or any flashlights from late in the evenings, and deep into the night. If you take your flashlight into the basement during the day, it will be more visible than using it in broad daylight.
However, the floodlights in a football stadium will be more noticeable early in the evening when compared to a flashlight or a car headlight. This is exactly how ambient lighting interacts with your projector.  If you have to use a projector in a well-lit environment, it should have the right ANSI lumens rating optimal for the environment.
So, if you are setting up a projector-based home theatre with a 120-inch screen, in your living room or basement, you can get by with a 2,000 lumens projector if the lighting is dim and your curtains are drawn.  If you like to keep the lights on, however, you should get a 3,000 lumens projector and then adjust the brightness to match your needs.
Why does Projector Brightness Decrease With Time?
Projector lamps, which are responsible for the light output in a projector, do not remain at full capacity forever. The exact lifespan of your projector lamp will depend on a lot of factors, including the projector model and your usage.
Ideally, you should only use your projector three to five hours per day or risk having the lamp burning out long before it approaches its advertised "lamp life".
Similarly, using your projector in a dusty environment can lead to clogged air filters. When this happens, your projector lamp will overheat. Even with the best care, your projector's lamp will have to be changed at some point.
Does High Projector Brightness Always Translate to Higher Quality Viewing?
You may be thinking about just buying a very high lumens projector to ensure excellent viewing quality. However, this isn't always the best option. If you are using your projector for home consumption, you need to choose the best fit otherwise you will get poor color and contrast performance.
Your eyes may also become strained. In this case, you may find yourself spending more time looking for a safe position to watch your movies or tampering with the projector settings.
To ensure you have chosen the best projector for your space, pay attention to the proposed distance between the projector and the screen and then the light situation in the room. Don't make a decision based on the lumens count alone.
How Can You Increase Projector Brightness?
Is your projector's brightness dimming?  Here are a few things you can do to remedy the situation.
If you use your projector in a dusty environment, dirt will cloud the surface of the lens. Cleaning off the lens could be all you need to restore the brightness of your projector again.
Your projector's air filter is responsible for allowing air to reach and cool your projector lamp. If it is blocked, the lamp will overheat shortly after you start a presentation. This will lead to lower brightness and dull images. Keep the air filter pathway clear at all times by cleaning it periodically.
If dirt isn't a concern, it could be that you are running the projector on a power-saving mode. Check to ensure you have not enabled this feature accidentally. If you intentionally want to run in that mode, however, you have to be ready to lose some of the projector's brightness as such settings will not allow the projector to run at full capacity.
The power-saving mode may be labeled "eco" or "quiet" on your projector depending on the model.
Fine-tune the Brightness Setting on the Projector
Projectors have become more complicated and feature-packed these days.  It is possible that you are experiencing low brightness because you have altered the default settings. Check to see if there are any automated brightness modes on your projector.
Activate them and see how they affect the projected images. Some of the automatic brightness options you may find include Cinema, Movie, Video, Standard, Dynamic, etc.  Each of these modes will use the brightness power of your projector in different ways so tweak until you find the perfect mode.
Has your lighting situation changed since you bought the projector? Did you redecorate the space? Sometimes the low brightness is because you are letting in too much light. Close the windows and turn off some more lights and your screen can come alive again.
It is possible that it is time to retire your projector lamp.  If you have used the lamp for at least 70% of its advertised lifespan, you may not be able to increase the brightness any more than a dozen lumens regardless of what you do. The average projector lamp will lose up to 50% of its brightness output as it gets closer to the advertised "lamp life".
When you get a new projector lamp, take all the necessary precautions to ensure it takes longer before you exhaust the lamp life.  Ensuring proper ventilation for the projector when in use, clearing the air filter, and not using the project for excessively long sessions are some of the things you can do.
Get a New Projector Screen
If the poor brightness you are experiencing coincided with changing your projector screen, and you have ruled out other possible causes, you should consider getting a new screen. This is especially so if you changed from a white screen to a grey screen.
While the former reflects all the light emitted by your projector, the latter will absorb most of it hence leading to duller images. Additionally, you can consider getting high-gain screens. These screen types are, however, only good if you don't mind viewing from only directly in front of the screen.
Conclusion
Brightness matters a great deal when it comes to the features of a projector. It is one of the factors that influence the quality of your viewing experience. If you choose a projector with a lumens capacity that matches the ambient light in the viewing space, you will enjoy crisp, clear images.
However, always remember that the overall viewing experience often goes beyond the raw brightness measurement.  Taking all the factors that can affect the brightness of the projector into consideration and ensuring better care for the device is the best way to retain a projector's brightness for a long time.
Leave a comment
Comments will be approved before showing up.