5 Factors to Consider When Installing a Video Projector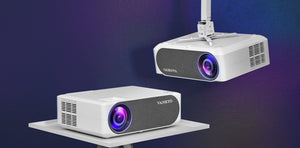 How to Install a Video Projector?
If you imagine that it is easy to install a projector in a living room to place a TV, well you are wrong! Unfortunately, it is much more complicated than you've imagined, and there are a lot of pitfalls to avoid if you want the result to live up to your expectations. However, when you overcome all the obstacles, the viewing experience will be more exciting and fantastic than you could expect it with a large TV.
Are you dreaming about a cinema-like experience in your living room? Then Follow this guide to learn some practical skills, we're sure that you'll soon make your dream come true!
1. Why Does a Projection Screen Matter?
A living room is not always suitable for projection, simply because it has a white ceiling and clear walls. Maybe you have noticed that commercial cinemas have a black ceiling and a dark background. Of course, this is not by chance. The dark environment can help reduce the ambient light to exhibit the contrast of the image. The darker the room is, the better the image quality will be.
However, as it is tricky to darken your living room to the most, there are other solutions, particularly that of using a technical fabric. 
These technical fabrics, or light-controlled fabrics, are of great service because they allow almost any living room to be transformed into a cinema, without changing the decoration of the room.
But, once you have chosen your technical fabric, there remains the problem of the chassis: fixed or rolling screen? If your living room is relatively dark, or if you can get it dark quickly, you can do without a TV completely and opt for a fixed screen. In this case, a "monochrome table" style screen is particularly elegant in a living room.
But you can also choose a roll-up screen, the canvas of which will unfold in front of your TV, a very common option! You have the perfect illustration with the carousel of images on the left (scroll through the photos).
2. Calculate the Throw Distance
To understand a subject or try to figure out something, nothing will be more efficient than reading its definition. So what is "throw distance" and why does it matter? A projector's throw distance refers to the distance from the projector lens to the screen, and it has direct impact on the screen size. Together these two elements decide the seating and lighting conditions. Meanwhile, they're proportional. If you position the projector close to the screen, you will get a small-sized image. On the contrary, if you put it several meters away from the screen, you can get a large-sized image. So what is the most suitable throw distance? Though many projector suppliers disclose a projector's throw ratio and propose a recommended distance, you have to figure it out on your own.
Throw distance Calculation
You will be able to calculate the distance between the screen and the projector lens in the following way:
Throw distance= projection ratio * image width
But quite often, the manufacturer indicates 2 projection relations. For example, a minimum projection ratio of 1.35 and a maximum projection ratio of 2. You will be able to calculate the minimum and maximum setbacks of the projector. Take for example an image of 3 meters wide:
Minimum distance = minimum projection ratio * image width = 1.35 * 3 = 4.05 meters
Maximum distance = maximum projection ratio * image width = 2 * 3 = 6 meters
Overview of Short Throw Projector
In recent years, a lot of short-throw projectors, or even ultra-short-throw projectors appeared on the market. The short-throw projector, which usually goes with a very short throw distance from 3 to 8 feet and a throw ratio of less than 0.4. For an ultra-short-throw projector, the throw distance will be even less, which means the projector is put quite near to the screen or wall, but it still can project a large image.
3. Choosing a Video Projector: Easy or Difficult?
A powerful projector is always the essential driving force of a home theater, but choosing an ideal projector is not an easy task. Giving that there are more than hundreds of different projectors, from a basic entry-level projector to a high-end 4k projector, and prices, features, technologies! Picking up a projector that's suitable for your room is just like carrying out a study. Meanwhile, both setup and placement can be particularly complicated, so it is better to think about it before buying. For budget-friendly video projectors, we will consider Vankyo's Performance series for your exciting and immersive home movie viewing experience.For a Full HD picture quality, VANKYO Performance V630 can be your best choice
If you're looking for a decor-friendly and Full HD video projector to improve your home theater, Vankyo's Performance V630  is exactly what you need. Featuring a native resolution of 1920x1080 pixels, alongside a brightness of 6,000 lux and a contrast ratio of 5,000:1, images are brighter and clearer, and colors are as vivid as you see in real life.
To enhance your movie experience, V630 supplies a maximal screen size of 46"-300" with projection distance varies from 5.15ft-30.18ft. Imagine heroes pop out of the giant 300-inch projected screen, your viewing experience can be more thrilling and exciting. Plus, the built-in two 5W stereo speakers complement your movie experience with tuneful sound. 
With electronic keystone correction, angles no longer bother you. Adjust the image within 45 degrees to get the best shape. Paired with a long-life LED lamp that lasts up to 50,000 hours, it delivers lots of fun to the whole family. 
4. Three Possible Installation Types for a Video Projector
Front
A projection from the front by placing the projector on a table in front of the screen. This is the most common installation because it is quick and easy for setup. Besides, some models such as pico projectors are very suitable for the front installation.
Rear
A projection from the rear by installing the projector on the floor or ceiling behind the screen. This type of installation requires a special rear projection screen.
The distance between the projector lens and the screen, the zoom setting, and the video format each affect the size of the projected image. Refer to the specific indications in your user manual to determine the appropriate position for your projector.
Ceiling
Ceiling placement can be done either by using a scaffold to place the projector "upside down", or place it in a niche using an elevator. Beware, for DLP projectors, the "upside-down" placement is almost always mandatory!
Other suggestions
Coffee table position is possible with almost any projector but is not the most practical solution. As a coffee table is not high enough, you may not be able to get a perfect image.
The placement on a wall shelf (or furniture), at mid-height, is quite common, but be careful it is not always effective. In fact, almost all DLP projectors do not have a lens-shift function of big angles, so it will be necessary to choose for these projectors either the coffee table position or the ceiling mount on a scaffold.
5. Projector Wiring
The projector will need to be powered, but that's not all. It may also need an HDMI cable to connect it to the source. Indeed, it is not like for a TV, it is rare that a projector has an integrated video player, a satellite or TNT receiver, or any other possibility of receiving an image. It will, therefore, be necessary to provide this kind of source, as well as the HDMI link to the projector. This is where it gets complicated because an HDMI connection over several meters can be problematic, especially if you opt for a 4K HDR projector. If you want to avoid all the problems, choose an HDMI fiber optic cable, it is expensive (around 200 € for a 10-meter cable) but it is the future!
Conclusion
Installing a video projector in a living room is not an easy task. After you have taken all these 5 essential factors into consideration, you can get twice the result with half the effort.
Leave a comment
Comments will be approved before showing up.