A Complete Guide to Projector Screen Type, Size and Usage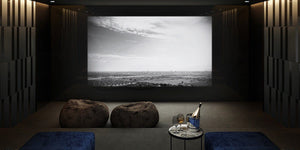 When talking about choosing a projector screen we generally make the decision by choosing the image size that we desire. Apart from that we also consider the space that is available as well as the distance of the spectators from that screen. However, there is a range of other criteria that you need to consider and must not overlook. Otherwise, you will end up buying a screen that has nothing but washed out colors with half contrast images to offer.
You need to think about the projection conditions too. For example, 
Is it going to be in a room that is dedicated to home theater, or are you going to use it on the go or in your living room?

Whether you will use it exclusively or will it replace your television?

Will you be using it in bright light conditions or in a dark room?

What kind of projector you will use with it? Is it short, ultra-short, dimly lit or bright?
The answers to all these questions will enable you to find out which type of projector screen will work for you.
1. Purpose of the Projector Screen
To identify the purpose you must find out where are you going to set it up and how frequently are you going to use it? If you are going to set it up in your bedroom or living room to use it in the evening with your family and friends then a portable version will work for you. In such a scenario you don't need to set up a permanent projector screen. You can also use this portable project for domestic occasions.
If you are going to use it in the same room all the time then you have to set the parameters once and for all. Here, you can either choose a roll-up screen or a fixed one. The roll-up projector screen is either motorized or manual. Some of these models also have inbuilt housing.
If you are thinking about replacing your TV with this screen then you need to go for a proper projector screen and don't go for a wall projection as most of the manufacturers advise. The short distance projectors are optimized for use in the day and the screen will take care of the ambient light pollution.
2. Types of Projector Screens
Largely there are two types of projector screens. One is portable and the other is a fixed projector screen. Let's have a look at each one of them briefly.
Portable projector screen
This is a cheaper solution and you can easily put it into service in your bedroom or living room. The canvas characteristics are there. Some of these portable projector screens also come with unwinding motor with a casing that you can place on the floor.
The biggest advantage of these screens is that you can use them wherever you want in your house. You also get the opportunity to set it up in the outdoors occasionally. Image adjustment according to the screen is effortless because you can move the screen back and forth and you don't need to use any tools either.
This screen also has a piece of a metal structure fixed to the canvas. Hence, the projection surface remains homogeneous and flat. Some manufacturers also offer double-sided portable projector screens. On one surface there is a 4:3 format available while on the other you can display video in 16:9 ratio.
The main advantage of this screen is the optimized tension of the canvas. As it features a rigid frame, it allows you to stretch the canvas as much as possible. Therefore, you will get an adequately flat surface ideal for projection. This type of screen can also reflect curved frames. This will evenly distribute the intensity of projected light just like cinemas.
A fixed projector screen is effortless to install without a mechanical system or housing. You will find those large sizes pretty easily. Some of the cinemascope format models have 2.35:1 with curtains integrated on either side. You can pull these curtains more/less to get 16:9 or even 4:3 on the projection surface.
3. Windability of Projector Screen
A roll-up projector screen is either motorized or manual and it is very practical in nature. You can install the housing on brackets or suspend it from your ceiling. Furthermore, you can even install them behind some formwork or right behind a beam on your ceiling.
This is suitable for occasional use and it is easy to install. You can set it up on your wall or on the ceiling if you want. Just make sure that you can conveniently reach the handle for unrolling it. There is a centrifugal locking system that is similar to a seat-belt retractor. You can easily adjust the screen's height by grabbing the central handle and pull it down for unwinding.
Motorized projector screen
These screens offer unmatched convenience. The motor organizes secure and progressive unwinding and it also offers image adjustability in a more accurate manner as compared to the manual screen. The motor here features a power cable while some of them also come with remote controls. You can activate them using a button so you can install them at height.
4. Image Size & Format of a Projector Screen 
The next point of consideration is what should be the ideal image size and format? It not only depends on the type of programs that you are going to view on the screen but also the available space and distance.
There are different formats available for the projector screens. You can find 1:1, 4:3, 16:9 and 2.35:1 cinemascope. You can make your choice as per the format of all the programs and films that you will watch on the screen. If you are into classics from the 1930s to the 1950s, then a format of 4:3 is suitable. For the modern era, you need to go for 16:9.
The size of the screen will depend upon the available space and distance in your room. The width of the projector screen occupies of horizontal FoV (field of vision) between 30 degrees and 40 degrees. Therefore, in such a scenario the viewing conditions are optimal.
In recent times, image quality has improved significantly and so has video projection. You can now find video projectors with 1080p all the way up to the cutting edge UHD 4K resolution.
5. Canvas Type
Generally, projector screens are made of PVC and most of the models are immersed with fiberglass for reinforcing their hold. Manufacturers also use different types of treatments for improving the lifespan of a screen. These include anti-dust, anti-warp, anti-yellowing, etc.   
There are different types of fabrics used to prepare the canvas, ranging from micro-structured fabrics to matt-white. They have a fine texture and gain level. Most versatile of them all is matte white because you can use it in the dark or dimmed condition.
Technical fabric is used for specific conditions. A gray canvas is normally used for high contrast and ultra-short-throw projectors. Transonor fabric is transparent and it is designed to allow the sound to pass through.
6. Other Options
Most of the motorized projector screens have wall fittings at the back of the housing and they unroll with an intention to display the image forward. If you're looking to attach your screen at the back of a beam in your ceiling for hiding the casing, then upon unrolling you will see an inverted canvas. These screens are made on customized orders.
This is a black colored band present right above the area of projection for the screens with their casing present on the ground. You can lower the projection surface when the screen is fixed on a high ceiling and you don't have to reveal the reflective surface. You can also raise the image to your eye level for the portable screens with their casing on the ground.
The black edges surround a screen and help in increasing the contrast. It can isolate the image from the background significantly. It can also avoid any stray reflections of light in the image's vicinity. But the projected image format needs to correspond to the projection surface format. 
When you are going to pale the screen in the middle of your room or right in front of a window, it is recommended for you to choose a canvas with a blackout back. It will prevent the image pollution caused by the light coming from the back of the canvas.
Final Thoughts
You must bear all these things in mind before you go out shopping for a projector screen. Apart from all these points, you should choose a room with dark conditions for projector screens to work at their optimal level.
The ceiling, walls, and floors need to be black or should be in a very dark color. It will significantly impact the overall output of your projector screen. These light conditions are appropriate if you want deep blacks and well saturated bright colors.
Leave a comment
Comments will be approved before showing up.