Best Portable Projector Set-up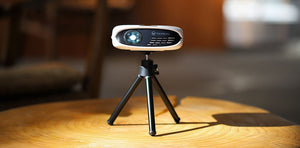 The advent of portable projectors promoted the replication of quality projector experiences in virtually all environments. One of the most significant advantages of these new devices is their accessibility – allowing anyone to create a quality projection set-up on the go.
This article reveals how to set up a portable projector by understanding these devices, accessories, and functions. We'll also take a look at the Vankyo lineup of portable projectors, the Vankyo Burger 101 Pico Projector, and the Vankyo GO300 Smart Wi-Fi Projector.
We'll show how anyone can benefit from the fantastic portable and accessible features & advantages of these devices; by answering questions such as "what is the best portable projector set-up? What is the best way to set up a portable projector in a home, academic, or office environment?"
How to Set Up A Portable Projector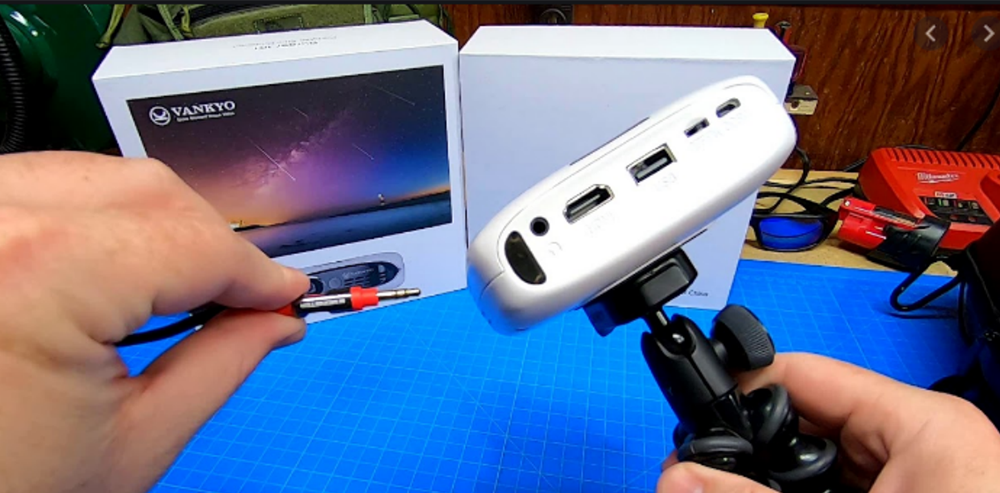 Portable projectors are by far the most accessible type of projector to set-up. Their portability features, such as a small ergonomic design, and integrated batteries, allow them to fit in almost any environment – following simple and easy set-up; in just a few minutes. Let's have a look at the most common requirements to organize your device and set-up your portable projector anytime & anywhere.
Find a Projecting Surface
The first step in creating the best portable projector set-up is to find an adequate projecting surface. Projecting surfaces vary in size, shape, and color. They are designed in the form of projector screens and are widely available in most academic & office spaces. Projecting screens are also precious in outdoor environments – where linear and sharp-angled walls & surfaces do not exist.
The most beneficiary traits of a projecting surface are:
Smoothness
Sharp angles that allow light to disperse evenly
Bright reflexive colors that allow light to reflect towards the viewer (white, beige, and cream)
Size is important. Try to find a surface that fits the projector's image scaling specifications
Understand Your Portable Projector
Now it's time to understand the specifications & accessories of a good portable projector set-up. Specifications are the sets of hardware and software features that make up any electronic device, such as portable projectors.
The most important specs to know when learning how to create a portable projector set-up are:
Image scaling: Image scaling dictates how large your projected image will look on a surface. This helps you understand your portable projector's limitations when trying to project on large or small surfaces.
Lux & lumen: Lux & lumen are brightness measurements (output) and light distribution on a projected surface. They help you measure the crispness, brightness, and sharpness of a projected image at a distance or on a large surface.
Resolution: Resolution dictates the number of pixels that are projected onto a surface. This is an important specification that measures the overall image quality of your portable projector.
Operating system (OS): The operating system is the software specification that dictates how your device operates and dictates program compatibility.
Media & Connectivity Approach
The media & connectivity approach decides how to approach the consumption of media with a portable projector. Some types of media that dictate the content's display and classification on your portable projector include:
Movies
TV streaming
Powerpoint Presentations
Pictures
Screen mirroring
Online video streaming services
Connectivity refers to how you decide to view your media content on your portable projector. Connectivity is primarily reliant on the type of portable projector you own, its specifications, and hardware. Some examples of connectivity varieties included in Vankyo portable projectors, such as the GO300 and Burger 10, are:
HDMI ports + cables
Wi-Fi support
Bluetooth support
App Store & screen mirroring support
USB file transfer for media support
AV cables + ports
VGA cables + ports
Best Portable Projectors For Easy Setup
When it comes to easy-to-use, accessibility, and ergonomic designs, Vankyo comes out as one of the world's best portable projector manufacturers. Their portable projector lineup is easy to set up, has one of the best quality/price relationships, and is full of media and connectivity features.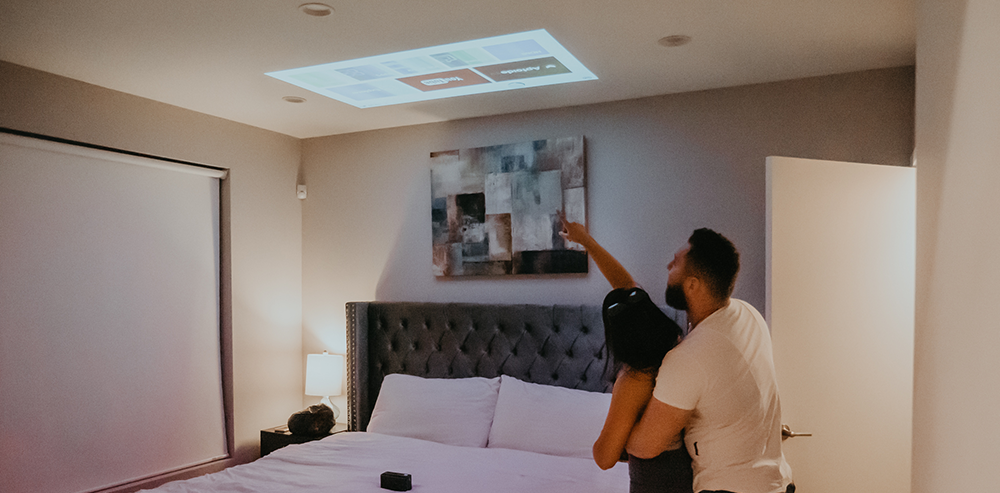 The Vankyo GO300 Smart Wi-Fi Mini Projector is one of the most accessible portable projectors to set up. Thanks to its small size of 5.80x3/10x9.30 inches and low weight of 2.41 pounds, this projector can be easily transported into virtually all environments and could be set up in minutes.
It has high compatible connectivity and media support features, like an integrated Andoird 7.1 OS (Operating System) with access to the Google Play store following smooth connection to most video and TV streaming apps. This allows the projection set up to be very fast; you're a few clicks away from streaming your favorite content directly through the projector.
Given that the projector battery is fully charged, the device permits a long connection to your varieties on TV series, video games, and presentations on the go. Its Wi-Fi and Bluetooth compatibility enables easy connection to multiple devices like speakers, which can transform your portable projector experience into a portable home theater experience.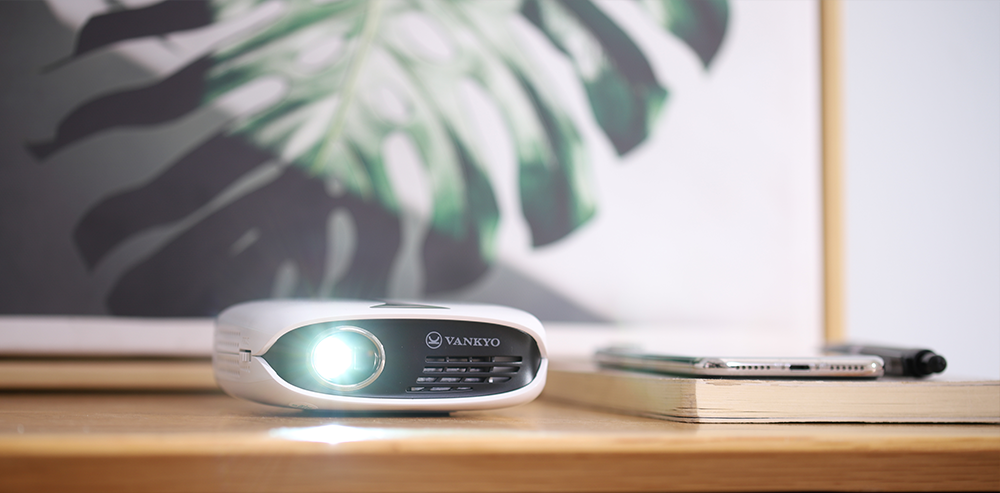 The Vankyo Burger 101 Pico Portable Projector is widely known as the most convenient projector for easy set-up. Its ergonomic design, 1080p resolution support, integrated media connectivity features, and long-lasting 5200 mAh battery make it a very user-friendly device. It comes with an integrated carrying pouch for easy access and transport.
This portable projector only needs a suitable place to rest, a projecting surface; these keep it going. Its highly accessible connectivity features make it much like its companion mentioned above.
Like all portable devices, we recommend keeping your projector and accessories well-organized to get the most accessible and most convenient set-up possible. Using the carrying pouch or minimal space in a backpack or carrying bag can easily allow you to maintain and set up this projector in almost any setting.
How to Setup Your Portable Projector in Any Location
One of the essential skills to have when thinking about setting up a portable projector is knowing how to create a memorable projector experience in almost any location. Let's explore the three most common environments in which one might be planning to use a portable projector.
Home Environment
Setting up a portable projector in a home is one of the most accessible procedures you'll ever have to undertake. Most houses are constructed using linear architectural features (straight, flat, and angular surfaces). These features make almost any wall in the home (provided that it's a clear non-intrusive color like white) the perfect cover to protect your images, videos, games, TV shows & series, and more!
To set up your portable projector in the home without issues, all you need to do is follow this list of steps we've compiled below.
Find a place to position your projector (kitchen table, desk, living room table, chair, bookcase, book on top of a bed)
Check the charge of the portable projector's battery.
Establish your media & connectivity approach (screen mirroring a movie through the Netflix app using Wi-Fi to interface your smartphone & projector)
Configure the projector image on your projecting surface using a manual or automatic key-stoning, and lens correction feature.
Enjoy your portable projector experience in the home!
Outdoor Camping Environment
The camping environment can be one of the best places to connect with your loved ones. It's the perfect space to link back to nature, enjoy fresh air, and get some physical activity. One of the best moments is the use of the media, be it movies, TV shows, or games. With the ease and portability of Vankyo's portable projectors & accessories, you'll be able to enjoy a quality projector experience while camping in the great outdoors.
To set up your portable projector in the outdoor camping environment without issues, all you need to do is follow this list of steps we've compiled below
Find a suitable place for your portable projector (Vankyo projector stand, a plastic chair or table, on top of some books, a flat stone). We recommend not placing your portable projector directly on the ground or grass.
Find a suitable projecting surface (Vankyo projector screen)
Establish your media and connectivity approach.
Power the projector and configure the image on the projecting surface.
Enjoy your favorite media while camping!
Outdoor Movie Theater Environment
Following the outdoors theme, the ability to set up a portable movie theater outside with portable equipment is one of the most convenient ways to get a movie night going. Be it on a patio, a garden, a camping trip, or on an RV / Camper van. Vankyo's portable projector offering and accessories allow you to create a movie theater environment anywhere.
To set up your portable projector as an outdoor movie theater environment without issues, follow the list of steps compiled below:
Find a place and rest the projector while streaming media like the vankyo projector stand.
Find a suitable projecting surface like the Vankyo projector screen.
Find good speakers that connect via Bluetooth to the portable projector.
Set up your sound system and configure the image via keystone and lens focus.
Establish your media & connectivity approach.
Enjoy a portable movie theater experience while outside!
Conclusion
Now that you know how to quickly set up your portable projectors in the best way possible, you'll be able to enjoy your media, in a variety of settings, without having to worry about complicated cables, overheating, and space management that most 'conventional' projectors require.
The most critical steps of a perfect portable projector set-up: projecting surfaces, portable projector specifications, and media & connectivity features are outlined. Also analyzed Vankyo's lineup of high-quality portable projectors, the Vankyo GO300 Smart Projector, and the Vankyo Burger 101 Pico Projector.
Finally, some comprehensive lists of the few steps to follow and enjoy, a quality projector set up in a home and outdoors movie or camping environment are discussed. This way, you'll be armed with the knowledge to efficiently and effectively use your portable projector anywhere.
Leave a comment
Comments will be approved before showing up.