Best Vankyo Tablets For Kids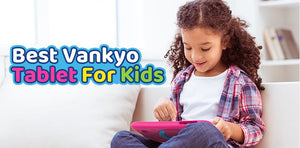 Tablets have become an integral part of many households in the last few years. Their most avid users almost always are the kids themselves, who love to spend time playing, watching videos, and interacting with them. For some, tablets have become an integral part of childcare, as they allow parents to focus on other household activities while their children interact with the device.
If you are thinking about purchasing a tablet specifically for your kids, you'll be happy to learn that Vankyo has a very special Kids friendly tablet that is custom-built for their use. In this article, we'll answer the following questions: Is a kids tablet the same as a normal tablet? What is the best Vankyo tablet for kids? and - Can a normal tablet become a kids tablet?
Is a Kids Tablet The Same As A Normal Tablet?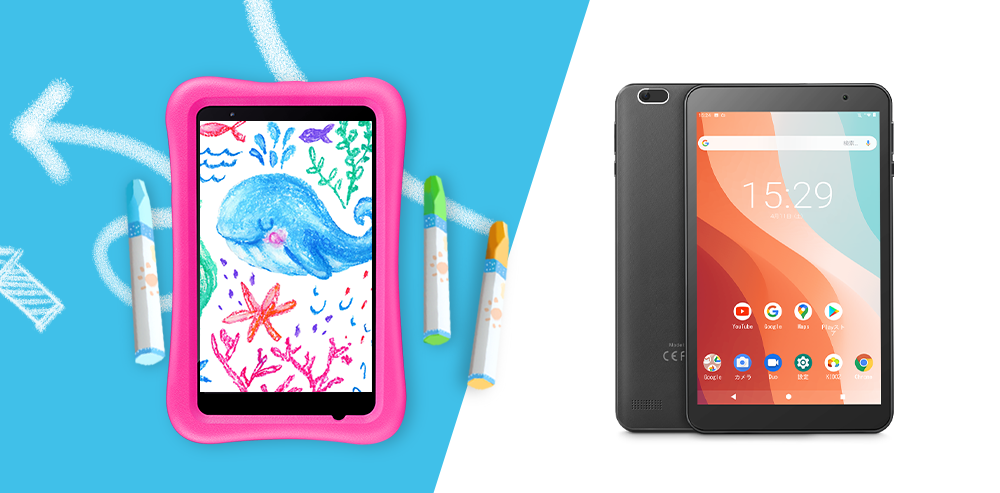 Kids' tablets and normal tablets are both tablets, that is, smart devices that use a touch display to interact with its functions and access its features. The main difference between kids and normal tablets is their intended audience, and the way the tablets design, features, software, and ergonomics reflect an accessible approach that is specifically geared towards kids.
Even though normal tablets can be used by kids with no issues, the advantages that kids tablets offer are perfect for parents looking to guide their kids on a responsible approach towards tablet technology.
Kids Tablet Features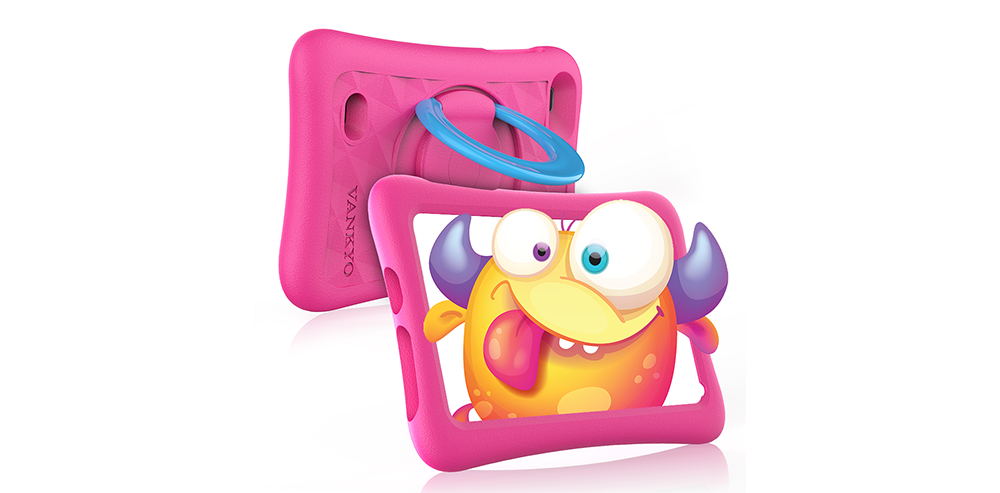 Kids' tablets boast a wide range of features that make their use a natural fit for any child. There are 5 important features that define a kids tablet and make it stand out from other types of tablets.
Accessibility
Accessibility determines the quality of device & user relationships, it enables a target audience to easily approach, interact, and learn with a device. Kids' tablets, therefore, should be very accessible and easy to understand and use, not only for the children but for the parents as well.
A good example of an accessible tablet is one that uses intuitive design principles that allow its user to learn all its functions with ease. Thankfully, most normal and kids tablets are alike in their functional accessibility features, using a large touchscreen with a highly intuitive operating system that allows for a well rounded & accessible experience.
Specifications
Specifications are an essential aspect of all tablets, they determine the overall quality of the media & connectivity features that the device can handle. Kids tablets tend to be underpowered when compared to their conventional counterparts, as most kids-friendly applications & video streaming services don't have high-performance requirements.
There are 5 important sets of specifications (specs) that are important to understand when comparing tablets to find one that fits your specific use case.
Display size & resolution: Display size & resolution are measurements of the screen size (in inches) and image quality (in pixel counts i.e. 720p).
Processor: Processors are the 'brains' of any electronic device, they determine the speed & performance of tasks within the tablet. Their speed is usually measured using gigahertz (GHz).
Storage: Storage determines the amount of digital media that can be saved in the device. It's usually measured with Gigabytes (GB).
Connectivity: Connectivity determines the hardware & software options for interactions between devices (e.g. Bluetooth, WiFi, USB ports, 3.5mm headphone jacks.)
Battery life: Battery life determines the amount of time a device can be powered on, its charge is usually measured using milliamp-hours (mAh).
Ergonomics & design
Ergonomics & design are very important features of a kid's tablet. Because children tend to have smaller hands with less dexterity, it's important for a kids tablet to have an ergonomic design that can be held without issue for long periods of time. The design of a tablet exterior using colors or special cases, can also enhance its appeal and strengthen its resistance against falls, spills, or damages of any kind.
Parental control features
Tablets allow anyone with internet access to interact with explicit and mature online content, which is why kids tablets should have easily accessible and highly customizable parental control features. They allow parents or guardians of the tablet to limit or control what type of content is available to the children who use the device.
Apps & operating system
A tablet wouldn't be complete without an intuitive Operating System (OS) that supports interactive, media, and entertainment applications (Apps). Kids tablets have custom-built operating system designs that make them easy for children to understand and play, as well as having integrating applications that are specifically geared towards children.
We have chosen the Vankyo MatrixPad Z1 Tablet as the best tablet for kids. It has all the design principles and features that a tablet for kids should have - and much more. The Vankyo MatrixPad Z1 also has one of the best price/quality relationships in the market, being not only very affordable but also very powerful. Let's take a deeper look at the many features that make the Vankyo MatrixPad Z1 tablet such a good choice for children.
Accessibility
The Vankyo MatrixPad Z1 Tablet is one of the most accessible kids tablets around. It can be easily purchased through the Vankyo website and other 3rd party vendors. The device is very affordable and has unique functions like a maximum weight of 1 pound and multi-language support.
Its simplicity and usability are clear reflections of its accessible first design philosophy, making it one of the easiest tablets to pick up by both adults and children alike. Let's take an in-depth look at its specifications & features in order to gauge its overall accessibility.
Specifications
The Vankyo MatrixPad Z1 Tablet comes packed with high-performance hardware that's suited for children's applications, games, and media streaming.
Display size & resolution: Full 720p HD resolution out of a 7-inch display with a blue light filter that enables nighttime use without disturbing sleep.
Processor: A powerful 1.5 GHz quad-core processor that's fast and reliable for most media & kids' games.
Storage: A generous 32 GB of onboard storage with the capability to be expanded via a micro SD slot (up to 128GB).
Connectivity: WiFi, Bluetooth, SD cards, 3.5mm headphone jack, movies, games, and app connectivity support.
Battery life: A long-lasting 2,500 mAh battery that's rated at 8 hours of full use, more than enough for road trips or travel.
Ergonomics & design
The ergonomic profile of the Vankyo MatrixPad Z1 Tablet is specifically designed with kids in mind. It comes with an exclusive built-in kid-proof case that provides ample resistance against most accidental drops, dust accumulations, and unexpected bumps. The case has carefully placed cutouts for the charging port, headphone jack, fan, and camera.
The Vankyo MatrixPad Z1 Tablet also comes in 2 colors, blue and pink. It also has an integrated backward-facing deployable stand that can rotate 360º degrees, allowing for comfortable viewing of movies & video, as well as doubling as a stabilizer for children's games.
Parental control features
Parental control features are essential, and the Vankyo MatrixPad Z1 Tablet has an integrated & advanced parental control system that will keep children safe from inappropriate content, and grant parents tranquility of mind and full control of their children's content and habits.
The system can be accessed via Smartphone or through the tablet itself, and it has customizable recommendations of content depending on the age range of your child. With the Vankyo MatrixPad Z1 Tablet's parental control features, you can manage screen time, content, internet navigation, and almost all functionalities of the tablet remotely or directly.
Apps & operating system
The Vankyo MatrixPad Z1 Tablet uses an integrated COPPA Certified, Kid App Kidoz software that's preloaded in the device. It allows for an extensive array of children's content and app interactions, running on an Android 8.1 Go operating system.
Most of the Vankyo MatrixPad Z1 Tablet's content is fun, engaging, and educational. It has the ability to download and use other apps when a parent chooses to do so. The device smart apps target special skills that kids will surely love, like creative arts, music, puzzles, games, skill-based apps, math, science, and others.
Can a Normal Tablet Become a Kids Tablet?
The short answer to this question is yes. Most tablets have the capabilities to install kid-specific apps, software, and even cases that are designed specifically for kids. The only downside to this method is the fact that a normal tablet, with its higher performance and more delicate construction, is not intended from the design phase to be used by kids often.
So if you are looking for a good option to gift your kids, and one that is also affordable and has all the specific design, ergonomic, hardware, and software features built-in - the Vankyo MatrixPad Z1 Tablet might be the device you are looking for.
Conclusion
The prevalence of tablets allows our kids to have access to advanced tools that promote their learning and concentration skills, especially if the tablet has a design focus that's orientated towards children and their very specific needs.
We learned that If you are looking for the best Vankyo tablet for kids, one that fits all these parameters and adds a few extras that you didn't know you needed, the Vankyo MatrixPad Z1 Tablet (blue or pink model) is by far your best choice.
We also learned that a kid's tablet is not the same as a 'normal' tablet, mainly due to the focus on design and software. While normal tablets give you tons of control with slick monotone designs, a kids tablet flares with color and have tuned down characteristics that are rarely found in a 'normal' tablet.
And if you want to create a kids tablet using accessories and software downloads, it's very possible to do so, but you'll end up paying more for the overall experience when compared to the one offered by ready-made kids tablets.
Leave a comment
Comments will be approved before showing up.