How Can A Projector Help Your Sewing?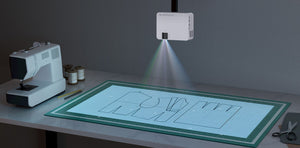 If you are fond of sewing and are part of a community then you must have heard about some enthusiasts who use projectors for sewing. Many sewists started using projectors to save time and money. These projectors have become quite popular among sewists and many people are flocking to the idea. 
The digital leap helped them grow exponentially as sewing projectors proved to be accurate, advanced, and most of all time-saving. 
Why Use Projectors For Sewing
Many women choose sewing projectors over traditional sewing patterns of paper because it saves them a lot of time. They have reported that they were able to complete the sewing project in half the time as compared to the traditional method. Here are some of the benefits that sewing projectors offer to their customers:
Time-saving
As mentioned above, it ridiculously cuts your work time. The main reason it became so famous was the very reason of saving time and enabling sewists to complete their projects in a jiffy. 
Cost-effective
Apart from saving time, it is guaranteed cost-effective. The cost of buying printer ink and paper soared high in the last few years. On the other hand, the sewing projector does the same work almost without any cost. 
Reduces paper/trash
It also reduces the amount of paper and is an environmental-friendly option as compared to traditional sewing. Save paper, and buy a sewing projector. 
Multiple Designs From Single Pattern
You can produce multiple designs and sizes from a single pattern. By just making a few changes in your digital design you can easily sew clothes of different sizes. 
Make Digital Adjustments on The Fly
You can easily adjust your design and patterns with a few clicks on your desktop, laptop, iPad, or phone. No need to take out prints of different patterns just because a single measurement went wrong. 
Types of Sewing Projectors
There are two types of sewing projectors.
Ultra Short Throw Projector (UTS)
Bulky in size

Need short distance from cutting mat

Ideal for short-distance work

No need to fix on the wall or hang
UTS projectors have both advantages and disadvantages. You need to decide about the place where you will be doing your sewing work before buying any projector. 
Mini Projectors
Good for long-distance projection, approx 62" from the ceiling or the wall

Inexpensive

Must be calibrated

Should be wall mounted, or fixed to the ceiling 
It throws light from directly above your cutting board so the sewing patterns become more visible and easier to follow. 
Factors To Consider Before Buying A Projector
There are several projectors in the market and it becomes extremely confusing which one to buy. Below we have discussed some factors you must consider before buying a projector to reduce confusion and help you make the right choice. 
Image Size: It is important to determine what you are going to sew. Typically, your image size should be equal to your cutting board size. The standard is 24x36 which is called A1 size. 
Connection: Another important factor is the way you plan to connect your projector. Are you going to connect it with a laptop or an iPad? Because Chrome Cast provides limited options in Adobe which in turn will limit your ability to connect. Select the projector that has multiple connecting outlets. 
Your Cutting Surface: It equally determines the type of projector you need. A curvy surface or folding table would distort the projection. UST projectors are more surface sensitive as compared to Pico or mini projectors. 
Distance Above Cutting Surface: If you are planning to fix the projector to your ceiling then the distance should be 62" to project a decent image.  If you don't want to fix it to a ceiling or the distance is too short then you should go for an Ultra Short Throw projector. You can easily put it on a nearby table, mantlepiece, or bookshelf from where it can project a sharp image easily. 
Vankyo
mini projectors
has helped many designers achieve excellence in their sewing due to its reliability, superior projection angles, and compact size. Do you already use a projector or plan to use it now for sewing?
Leave a comment
Comments will be approved before showing up.