How Does 3D Technology Works on Mini Projectors?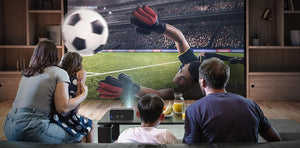 3D technology has the potential to awe, inspire, and entertain by providing a unique viewing experience. Today, 3D technology is found on many devices like phones, TVs, and projectors. In this article, we will show you how to set up 3D viewing in your projector, as well as provide you some points that can help you understand this technology better. Thankfully, 3D projectors are easy to set up with only some basic understanding, which should be enough to remove any fears that this is a difficult technical job.
What is 3D Technology?
In simple terms, 3D images and projections are optical responses from our brain when 2 slightly different images are layered on top of each other. To achieve this effect, 3D media usually streams two images, one for each eye. 3D glasses are very important because they focus each image into the eye in order to produce the desired 3D optical effect. In essence, our brain is trying to show you one image when in reality there are two, this overlapping effect creates the illusion of 3D imagery.
Does Your Projector Have 3D Functions?
The best way to find out if your projector has 3D functions is to use the product manual. Even though 3D comes integrated with many types of projectors, we wouldn't recommend assuming the device has these functions automatically. It is always best to look at the different projectors on offer, and ask the seller or manufacturer about 3D technology if it isn't already labeled.
3D Ready Projectors
You might find that some projectors have a 3D ready tag labeled on them. A 3D ready projector means that the projector is capable of projecting only Frame Sequential data transmission. Frame Sequential data transmission is the most cost-effective and simple way to stream 3D media.
The only downside with 3D ready projectors is that they can only work with devices that have 3D Frame Sequential transmission compatibility. We recommend you to double-check if your Blue Ray player or computer have Frame Sequential transmission compatibility before purchasing a 3D ready projector.
Full 3D Projectors
Full 3D projectors are great devices that have a great advantage over 3D ready projectors. When a projector is labeled as Full 3D, it means it is able to project 3D compatible media that is compatible with almost any device. Full 3D projectors can transmit 3D content coming from Blue-Ray players, HDMI, and different computers. Full 3D projectors also offer an outstanding image quality of 1080p with 3D features enabled, which is more than the standard 720p of most 3D ready projectors.
Do Mini Projectors Have 3D Function?
Mini projectors have become increasingly popular over the past decade. They are great devices that offer versatility and quality on a small package. 3D ready mini projectors are widely available and work great with compatible 3D content.
The only downside with mini projectors is that they tend to overheat very easily, which in turn can cause some issues when trying to view 3D media. We recommend shutting down the mini projector after every use, and to keep it in a cool place where overheating would be less likely to occur.
How to Set Up Your Projector 3D Functions?
The hardest part about enjoying the home 3D experience is the setup. 3D compatibility and configuration can be a little complicated for some, which is why we have created a list of some of the most important essentials when it comes to 3D projectors.
1. Get the Proper Accessories
No 3D images can be viewed unless we have 3D glasses. There are 2 types of 3D glasses, both of them with their pros and cons, and both of them working in a similar way. 3D glasses are what allows our right or left eye to see the desired frames that create the 3D illusion. The 2 types of 3D glasses are:
Passive glasses
Active glasses
Passive glasses are the most readily available, this is because they are cheap to manufacture, being a frame that holds 2 lenses with slightly different characteristics. Active glasses work differently, they come equipped with a device that processes the image or video and decides what eye to feed the image to. If your projector is already 3D capable, it means it can decode the content into 2 images without the need for active glasses, which is why most 3D projectors use passive glasses.
2. Tinker With the Projector Settings
If you can't find the right settings to enable your projector 3D settings, we recommend you to check the product manual to get a thorough view of the settings menu with all its functions. Try to enable the 3D feature on your 3D projector before trying to stream any 3D content through it.
3. Get 3D Compatible Media
In order to watch 3D movies at home, you'll need to have a 3D compatible movie. Not all media can use the 3D features of your projector or mini projector, which is why it is important to have 3D compatible media if you want your 3D viewing experiences to be seamless. We recommend a quick internet search to check if your media is 3D compatible. Most online retailers of media content have detailed labels and descriptions, they should be able to tell you the type of 3D format that is compatible and available for use with your 3D projector.
4. Find the Perfect Setup
A proper setup is important for enjoying all the qualities of 3D viewing. Make sure your projector is not overheating by placing it in a well-ventilated area. Make sure the surface where you are projecting the media is flat and at a proper distance from the projector. Lastly, make sure you have your 3D glasses on hand. With these simple preparations, you can start enjoying the 3D viewing experience with all its amazing qualities.
What to Do If Your Projector's 3D Function Doesn't Work?
In case your projector's 3D functions aren't working properly, we have listed a few tips that can help you resolve your issue. Always remember to keep your projector clean and well ventilated, a well-maintained projector will always outperform one that has been neglected.
1. Contact Customer Support
If the 3D functions of your projector don't appear to work at all, even after some tinkering and troubleshooting, it is best to contact customer support. The seller or manufacturer of most devices has professional customer support services that can help you with any problem, and if your guarantee remains valid, you can even get professional repairs or outright replacements.
2. Check Your 3D Glasses
Sometimes your 3D glasses might be the ones causing the issue. Make sure you purchase 3D glasses that are compatible with your projector formats. The best way to spot trouble with your glasses is to see what happens to the 3D image when you put them on, if the image isn't in 3D the glasses are at fault. If you are having issues with your 3D glasses the best thing you can do is replace them with other glasses.
3. Check Projector Settings
It is always a good idea to go back into the projector settings to see if the 3D functions of the device are configured properly. Sometimes we can overlook a save button in order to keep the changes made to the settings. Some projectors can also revert the 3D settings automatically after a reset or sudden shutdown, so we recommend to always look for the projector settings to check that the settings are properly configured.
4. Check Streaming Device Settings
One of the most important and often overlooked issues don't come from the projector at all. 3D media and projection require special formating in order to work in a home environment seamlessly. In order to achieve this seamless experience, the streaming devices have to have the proper settings.
PCs, tablets, Blue-Ray players, and smartphones all have different applications or programs that can play 3D formats. We recommend looking for the best way to configure your 3D functions on your specific operating system (OS) and what are the best programs for streaming said media content.
Conclusion
3D projectors are amazing devices that deliver in terms of quality and awe, they allow for great immersion and surprise, and the comfort of watching a 3D movie in your own home is unparalleled. In this article, we learned what are some of the basic steps to follow when learning how to set up 3D viewing in your projector. We also learned about the different types of 3D accessories like passive and active glasses, as well as the different types of 3D projector labeling.

Remember that Full 3D projectors are the optimal way to experience 3D content at home due to their higher quality, and a wide range of compatibility. While 3D Ready projectors are more standard and they might have compatibility issues, they remain the cheapest and most efficient way to deliver the 3D quality experience inside the comfort and versatility of your own home.
Leave a comment
Comments will be approved before showing up.