How to Connect a Soundbar to Your Projector for a More Complete Cinema Experience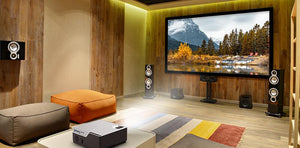 Do you have a home cinema setup with a projector and a widescreen? You should consider adding a soundbar to the mix to truly bring the cinema to your home.
Your projector most likely came with a speaker. However, the design of the hardware in a typical projector makes it impossible to have speakers that will produce quality sound that is loud enough for everyone in the room to hear video conversations properly. How will you hear the beautiful sound effects that combine with the visuals to create a holistic viewing experience?
With a soundbar, you can hear all the bullet shells dropping and enjoy all the minute detail in that perfect movie score!
So, how can you connect a soundbar to your projector? Once your projector is already set up and ready to broadcast to a screen, take the following steps.
Step 1            
Choose the right audio cable to connect your projector to your soundbar. Most projectors will require the cable to have a 3.5-mm stereo plug on one end. The end of the cable that will go into your soundbar can either be the 3.5-mm stereo plug or two phono plugs. Most modern soundbars will not have room for analog phono ports so confirm the ports on your projector and your soundbar before you choose a cable.
Step 2
Turn off the soundbar by pressing the "Power" button on the remote or on the body of the soundbar.
Step 3
Insert the 3.5-mm plug into the Audio Output port on the projector. The port may be called Audio Out on some projectors.
Step 4
Insert the other end of your cable into the Audio Input on your soundbar. If you are using two phono plugs on a soundbar that supports it, the red plug should go in the port for the right sound channel while the white (or black) plug will go into the jack for the left channel.
Step 5
Turn on your soundbar, and choose your preferred volume level to begin enjoying your cinema experience.
Connecting a Projector to a Soundbar Wirelessly
Do you want to avoid the unsightly look of running wires around your home theatre? Connecting a soundbar to your projector wirelessly is the best solution. Fortunately, many modern soundbars and projectors come with Bluetooth connectivity.
If both your soundbar and projector support Bluetooth connections, you only need to turn on the "scan" function on any of them to find the other device. Once found, pair them and start enjoying the streaming experience.
If your soundbar supports Bluetooth connections, but your projector doesn't, it may be difficult to get the wireless connection to work even with third-party Bluetooth adapters.
The alternative is to use a wireless dongle to connect your soundbar to the projector, but this will also require having a soundbar that supports Wi-Fi connectivity or at least has USB ports to accept Wi-Fi dongles.
How to Connect a Ceiling-Mounted Projector to a Soundbar
To connect a ceiling-mounted projector to a soundbar, you have two options:
Check for Bluetooth compatibility between your projector and the soundbar
Buy a 3.5-mm stereo cable that is long enough to run from the projector to the soundbar
If you can only go with the second option, you should consider how the aesthetic appeal of your home theatre will be distorted by such a connection, especially if it is permanent. You can use cable pins to hold the cable down across the ceiling and the wall or run the cables from inside the ceiling and downward into the soundbar.
If the connection process proves to be too tasking for you, seek advice from your local projector store.
How to Choose the Best Soundbar for Your Home Theatre Projector
Let the content decide
When looking for a soundbar to pair with your projector, the first thing to keep in mind is the kind of content you'd typically watch. If you intend to stream content from third-party services like Netflix, Amazon TV, YouTube or cable connections, you need to choose a soundbar that comes with the dialogue enhancement feature.
This way, you will not have to struggle with the standard sounds delivered by the TV channel or streaming service.  If you watch DVDs, however, or have the option of only buying or renting digital video content in HD or 4K quality, you can go with more generic options.
Similarly, if you also want a soundbar that will work great when you are just streaming music, then you have to pay attention to the bass settings.
Don't ignore the size of your home theatre
Soundbars come in various sizes allowing you to scale your sound to fit the room. If you choose a soundbar that is too small for your home theatre space, the sound experience will be of less quality.
A quick tip is to choose a soundbar that is the same size as the width of your projector screen. The logic behind this is simple: the larger the screen, the farther away you need to sit for a pleasant viewing experience. So, if you have a big projector screen in your home theatre setup, you will need to sit far away from the screen, hence the need for a soundbar that will still reach you in the viewing position.
With a 42-inch screen, for example, you should sit 84 inches away from the screen (multiply the size of the screen by 2 for the right sitting distance). In this example, your chosen soundbar should be at least 42 inches in width for you to enjoy crisp sounds during your viewing sessions.
What's your budget?
When you have made up your mind on your soundbar, your next consideration should be your budget.  Match up your sound needs to your budget to simplify your decision-making process. Where possible, ask for a demonstration from your dealer before you make a final decision. Don't forget to consider the space the soundbar will take up.
How Can You Make the Most of Your Soundbar?
After you have chosen the perfect soundbar, there are a few more things you can do to ensure a quality experience with your Soundbar:
Don't use your projector speakers
As we mentioned above, your projector speakers are most likely ineffective.  This is why you have spent money on a soundbar.  If you allow sound from the projector to mix with the soundbar, you will get a diluted sound experience. Mixing sounds at different frequencies or decibels end up distorting the general quality. Look through your projector settings and turn off or mute the sound.
Put the subwoofer in the right spot
Most soundbar setups come with a separate subwoofer. The low-frequency output from it will help you get more immersed in the sound experience.  Move the subwoofer around the home theatre space to find the optimum spot for it. Many people just put it right next to or in front of the soundbar, but you can also get powerful results if the subwoofer is behind your viewing position. Granted, such experiments work best if you have purchased a wireless soundbar. However, if your subwoofer gives excellent feedback from a certain position and you can't connect it wirelessly, you can invest in longer cables rearrange your set up in a way that hides away all the wires.
Use high-quality cables
If you are using a wired setup, the quality of your cables can have an impact on the overall experience from your soundbar.  For example, a projector that allows you to connect to your soundbar via an HDMI cable will provide higher-quality sounds than one that only allows you to use AUX cords.
HDMI cables don't only ensure higher quality sounds, they also ensure less clutter around your screen area. With AUX or similar cords, you'll need a separate connection for sound and picture.  However, this is all dependent on what kind of connections your projector allows. If you can only use AUX cords, ensure you get the very best in the market.
Wired connections are not only meant for when your soundbar doesn't support wireless connections. Even when your soundbar supports Bluetooth or Wi-Fi connectivity, you may still find that a wired connection delivers richer sounds.
Use the equalizer
Most modern soundbars come with apps that will feature software equalizers. You can use this to enhance or tweak the sound from your soundbar for optimal results.  Most of the equalizers come with presets you can use, but you can also change the treble and bass levels in isolation. Check the user manual for your soundbar for instructions on how to use the equalizer.
Conclusion
Connecting a soundbar to your projector is super easy. All you need to do is to ensure wired or wireless compatibility between your projector and your soundbar and you can replicate the cinema experience in your home. Soundbars are cheaper options to the traditional surround sound that allow you to take your projector-based home theatre to a whole new level. Mount your soundbar and use the connection options available to you to transform your viewing experience!
Leave a comment
Comments will be approved before showing up.