How to Use a Portable Projector for Outdoor Activities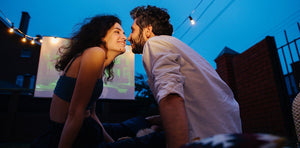 Whether you are replicating a drive-in movie experience or hosting a barbecue and movie night for your friends, portable projectors add a new twist to outdoor activities. When you need to unwind without retiring to your man-cave or couch at home, using a projector can be the perfect solution.
7 Tips for Using Portable Projector Outdoor
Portable projectors can remove the boredom from your summer months. However, it can be a tad tricky to get things right, especially if you intend to use the projector outdoors during the peak of the day. Projectors are designed to be used indoors or during the dark outdoors. This piece discusses how you can use a portable projector for outdoor activities during the peak of the day.
1. Use the Right Portable Projector
There are various types of portable projectors available.  If you intend to get one that can be used outdoors, you need to ensure that it has the right level of brightness to cope counter the ambient light outside during the time you intend to use the projector.  The brightness of portable projectors is measured in lumens.  Apart from the level of ambient light outdoors, the exact type to go for will also be influenced by the size of the viewing screen. Here is a rough guide:
| | | |
| --- | --- | --- |
| Screen Size (ft) | Minimum Lumens | Recommended Lumens |
| 40x22.5 | 5500 | 12000 |
| 25x14.5 | 5000 | 10000 |
| 20x11 | 4000 | 5500 |
| 16x9 | 3500 | 4000 |
| 12x7 | 3000 | 3500 |
| 9x5 | 2500 | 3000 |
For quality and highly vivid images, use the HD model of any portable projector with the right unit of lumens. Non-HD projectors can do a job outdoors, especially at night. However, the image quality won't be the same as a portable projector model with a 1280 x 800 resolution or higher.
2. Pick the Perfect Video Source
There are many options available when it comes to the video source for your portable projector. A wireless router, Amazon Fire TV stick or Apple TV, Chromecast adapter, or Roku stick are good wireless options. Alternatively, you can use HDMI or MHL cables to connect your video source to the portable projector. A portable DVD player can also do a job if you are displaying content on a Blu-ray disc.
You need to confirm that you have the hardware for the connectivity options available on your portable projector. Don't forget to pay attention to the type of media you want to consume.  For example, the connection needed to watch a live sporting event or a rented movie will be different.
3. Set up Your Sound
Your portable projector may be loud, but most of the popular models will not have the right sound power to serve outdoors, especially in large spaces with many viewers. Complement the built-in sound on your portable projector with a separate outdoor speaker. There are several Bluetooth speakers available today if you'd like to purchase a new sound system. Your existing indoor sound-system may also be enough.
4. Choose Your Location
Regardless of the quality and brightness capabilities of your portable projector, the viewing experience will be severely hampered if the projector and the screen are directly in the sun. Check out your preferred location for the outdoor viewing experience a day ahead to find the optimum position for your screen in relation to the impact of sunlight.  Take into account factors like the sitting position, movement, etc.
If your portable projector is directly under the sun, it can overheat.
5. Keep the Weather in Mind
Most outdoor events hold when the weather is accommodating. However, depending on your location, things can change pretty quickly. Rain or snow can damage your portable projector like any other electronics. Similarly, if you are using the projector at a pool party, be sure to keep it away from water splashes or the barbecue fire!
6. Clean the Air Filter Regularly
An excellent portable projector will cost hundreds of dollars, so it is an investment that is worth protecting. To ensure your projector is working at full capacity, you need to maintain the air filter regularly.
Your projector model will determine the time between each episode of filter cleaning or replacement, the number of times it is used outdoors, and the prevailing outdoor conditions. Clean air filters ensure there is adequate airflow to keep the hot bulb and projector housing cool. A clogged filter will shorten the lifespan of your projector a great deal.
Fortunately, it is easy to clean the air filter on most portable projectors. You only need to slide the filter out with a finger and wash or blow off the dirt depending on how dirty it. Only remove the filter when the projector is off. If you washed the filter, wait for it to dry before replacing it.
7. Checklist for Using Your Portable Projector Outdoors
Get all the necessary permissions for outdoor events, including notifying your neighbors about your intentions. Invite them if the occasion calls for it.
If you are showing a movie, do not charge an entry fee as this could be a breach of the law.
Schedule your events late in the evening for the best experience.
If using wired connections, arrange the cables and the entire setup in a way that is trip-proof.
Make it hard for unwanted users to access all your electronics, including the portable projector. Even friendly-guests like the neighbors' dog can ruin your evening!
Be prepared for a swift change in the weather.
Read your portable projector's user manual for any special instructions on outdoor use.
Some Interesting Outdoor Uses for Your Portable Projector
When you think of outdoor uses for your portable projector, it is easy to only think about watching movies or a live sports event. However, there are other special uses for your portable projector. They include the following:
#1 Teaching an Outdoor Class
Projectors are commonplace in brick-and-mortar academic institutions. You can borrow a leaf from them and organize an outdoor class if you are a trainer in any niche. If you are a physical trainer, gardening expert, self-help expert or similar, you can fix a cool evening class for your clients and use your portable projector to display your notes. If you are using your projector in this manner, consider getting remotes to control the slides without touching the media source.
#2 Creating a Laser Light Show
The mood at most parties is set by using laser lights. You can recreate this during your evening parties with the portable projector. There are lots of open-source options that allow you to create laser light shows at home. Download the software and bring the club to your backyard!
#3 Painting a Mural
If you've always wanted to paint but don't have the talent to stand up to some of the greatest artists in history, you can use a portable projector to paint a mural.  To get started, project a black and white version of the image you'd like to draw on the screen, and then trace over the lines in the image using a pencil.
Use any paint color of your choice to complete the artwork, and you'll have a beautiful mural.  If you are looking for an interesting pastime, you can put your portable projector to good use on any spaces that can be improved with a mural within and outside your neighborhood (as long as you are not breaking any laws).
#4 Organize Video Game Competitions
Playing video games with your friends in the basement is cool, but what if you can organize a massive video game competition and invite dozens of people over? Your portable projector allows you to broadcast the gaming sessions for a large group. Throw in some drinks and food, and you have a fantastic atmosphere!
There are lots of video games that can feature in these competitions, including FIFA/PES, Call of Duty, Mortal Kombat, Need for Speed and other multi-player games. With a portable projector, there is no limit to the type of games you can play. Some mobile games like Temple Run or Candy Crush can become very interesting when some competition is thrown into the mix.
#5 Create a Shadow Puppet Show
If you've always wanted to create a puppet show, your portable projector simplifies the process. Using your projector and a white screen, you can create your shows. You can either use your hands or create cardboard cutouts.
Conclusion
A portable projector is an excellent piece of hardware to own. It can give a new meaning to your evening relaxations and get you to spend more time outdoors. However, when deciding on a portable projector to buy, ensure you choose the one that best meets your needs in terms of durability, brightness capacity and connectivity options. If you are not sure, make a list of your needs and read reviews for some popular portable projector options.
When you finally start using your portable projector, do not forget to take good care of it as an investment. As a rule of thumb, avoid leaving it outdoors after an event regardless of the usage frequency.
Leave a comment
Comments will be approved before showing up.