How to use a projector for sewing?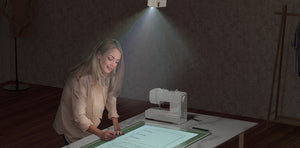 Why sewing projectors are preferred?   
Basically, projectors are used because they do not require any paper pattern or any paper type. All you have to do is to project an image on a cloth and then just cut it. It helps you to save money and time which is why sewing projectors are preferred. During the extensive work, these projectors help you most by saving time and giving your customers productive work.
What is a sewing projector?                 
An instrument known as a sewing projector is used directly to reckon an image of a sewing pattern or design on the fabric. It will do away with the requirements for cutting, taping, and paper sewings in other words. It illuminates a cloth by beaming light through the transparency of design. The projector then enlarges the light making it simpler to see the design's finer elements. For sewers of a skills level, from novices who need assistance viewing the details of their  project to seasoned sewers who want to try out novels and elaborate patterns, this can be a fantastic tool
What you need for sewing
Connection to your device
Cutting mat
Calibration grid
Pdf pattern
Introduction
In using a projector for sewing. The goal is to connect a project with your design. Reckon the design pictures straightly on your fabrics. This will eliminate the need of cutting out the paper pieces to cut and use. Using a sewing projector is a little bit technical and tough. By using a sewing projector, you don't need any high space in between a projector and a fragment mat. Place the projector above the lights. For sewing, when using the machine for printing the paper patterns at home you have to crowd them together or even send them out but with this projector, you just have to project the design and start onward with your skills. For sewing purposes, the projector is fixed with the ceiling and is projected on the area of the mark. a projector can also be projected directly with smartphones or if they are linked with a laptop all you  need is just to have an HDMI cable. Even when working during the day, this will provide you with the best image and brightness.
Preparation and process
Connection:
The ideal option is to connect your computer, phone, or tablet via cable. Many issues that emerge from wireless connections will be avoided. However, if you're learning how to calibrate a projector for sewing, there are a tonne of wifi connections that work for pattern projecting.
Using an adobe reader:
Using a projector at home for sewing is so easy. All you need is to download your pattern in adobe reader. It's free to download one.
Color setup:
Have you ever found it challenging to project and try to perceive the lines of a pattern? The color setup can be altered to make a significant difference. The projected color configuration setting to employ will rely on the cloth color and personal desire. Despite how difficult it may sound, doing this is simple. You may probably leave the settings exactly as they are if you have a light-colored cloth, say a light blue. It could be challenging to see the black outlines of the pattern pieces or text on darker textiles, such as royal blue. Changing your settings will be helpful in this situation. The pattern will have a black outline and a white backdrop, just like the printed version. You can make the white backdrop black and all lines and text white by using the parameters listed below. On darker textiles, this will make it much simpler to see the lines. This makes your work easier and more productive.
Folding of cloth:
Now that your grid is set up properly and your color choice is perfect for your requirements. Your cloth will only need to be folded in one direction because all folds will be to the left (unless using a circle skirt which requires a double fold.). The grainline is the same throughout the entire design. As your cloth won't need to be turned or modified, cutting out portions will be simpler as a result.
Correct angle:
Make sure your projector is first casting a proper rectangular form with 90° straight angles at the corners. Either the projector itself can be moved, or the Keystone changes on the projector settings can be used to change its form. The focus may also need to be changed.
Modifications:
The next step is to modify Adobe Acrobat's zoom setting to ensure that the projected pattern pieces are the proper size. Your projected image must be changed so that the projected line measures at the correct length because each line on the grid has a specific length.
Calibrations grids:
By measuring the lines on the boxes after they are projected onto your cutting table, these calibration grids will assist you in setting the zoom in Adobe to the proper scale. You will need to reduce your magnification to make the image smaller if, for example, the projected line measures 90 cm on your tape measure but the grid indicates it should measure 80 cm. There is some initial trial and error, but once you figure out the logistics, it's quite simple. Your projector is calibrated when each line is the proper size.
Finalizing and cutting:
Now is the time to decide on your size and begin cutting. You may cut out all the parts you need once your size has been determined and your cloth has been put out. Simply adjust in the Adobe file and observe how your projected picture moves onto the cutting board when this occurs. Do this until all of the pieces are cut out. In order to avoid having to reposition the projected image while cutting larger pieces, you should make sure that each one is cut one at a time.
Leave a comment
Comments will be approved before showing up.