Top 10 Tips for Using Home Projector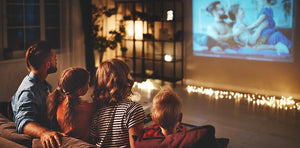 A home theater is an incredible place to get your family and friends in one place to spend quality time together. And a home projector can provide you with precisely what you need to have an incredible viewing experience without going to the cinema. Moreover, you don't need to spend as much as you would do on a high-quality 4K TV or LCD TV to get an exceptional, bright image.

Now that you have decided to take the plunge and purchase a projector to install in your home, you need to do it right. So how do you get the most out of your home projector? Below we've listed useful tips for using a home projector.
1. Keeping Shadows Off the Screen
To keep the actor's shadows off your screen, keep the projector high and make sure you tilt it down toward the screen. The closer the home projector is to the screen, the better, so you can mount it from a light bar, and in some cases, your house ceiling. In this case, you may need to use the home projector's keystone settings to correct the image.

You can also consider a short-throw projector; this reduces the distance that your projector needs to be from the screen, while still showing a big backdrop image. Try rear-projection if you have room backstage – this means placing your projector at the back of the stage and project it forward on your screen. However, for this to work, your screen will have to be a little transparent, but not to the extent that you can see the projector light through it.
2. Keep the Projection Image from Washing Out
If you want to keep the image projected from washing out, the best option is to keep the stage lighting and ambient light from pointing directly at the screen. If possible, concentrate your 5 feet off the screen. To do this, you can regulate them or use barn doors to control the spread of light. As an alternative to overhead lamps, you can also try to use light trees in the wings.

No matter what method you use to keep the projection image from washing out, remember that, a bright projector is the answer. However, conventionally painted backdrops can start washing out if they are saturated with excessive light. The bottom line is that you could try to balance the direction of your stage lighting and the amount of light.
3. Always Read the Manual
The manual that comes with your projector is the best resource you should have at your fingertips. Every home projector on the market comes with an operating manual either in electronic format or hard copy. Taking your time to read through the projector operating manual before using it is the right way to start. The manual will guide you on the best way to use your home projector.

Most of the manuals also come with helpful projector maintenance tips that are suitable for your product. For instance, it can instruct you on how to remove the projector's filter cover. If you have experience with a home projector, each product has its unique features and settings that might be different from what you know.
4. Consider your Projector Location
There is more to positioning your home projector than just finding the location where it will look perfect. It is important to leave at least 6 to 12 inches of space around the projector so that it can get proper heat ventilation. Without the right ventilation, the building heat from your device cannot escape, and this can cause damage to the device's internal component and drastically shorten its life span.

If you think your projector generates a lot of heat, it would be best to avoid positioning it in the path of a direct heat source like heating vent or sunlight. In the case you have your projector mounted on the ceiling, ensure it is not directly next to an outbound vent. It is also a good idea to keep the environment of your projector as dirt and dust-free as possible.
5. Clean Your Projector Filters
Projector filters prevent dust buildup that, if left unchecked, can insulate the projector. To make sure your filter is performing well, you must maintain them regularly. It is vital because a warranty may not cover damage to your projector as the result of a dirty filter. Usually, it is recommended to clean projector filters once every 3 to 4 months.

Ensure you check the manual to see if there is a maintenance cycle recommended for your projector. If you have been using the projector regularly or notice an excessive dust or dirt buildup, you should clean or replace your filters. The two best ways to clean the projector filter are to use a can of compressed air to blow the dust away or use a portable vacuum attachment to remove dirt from the filter.
6. Canvas
While some homeowners prefer a white wall for their projector, other users prefer to use a screen. While white projection screens have been the most used for years, some people opt for contrasting rich gray screens. You should keep the space or area in which you watch movies, TV, or play video games dark. However, if it is challenging to get a completely dark space or room, the gray screen can be an ideal option.

Gray screens don't reflect as much light as white, and they make images beautiful. When it comes to the screen size, you can consider various sizes, and it significantly depends on the size of the space or room.
7. Light Control
Determining how much light required in a media room is a common problem. The most important thing is to keep light away from your screen, then you can decide on the amount of light you need to use the media room the way you want. Removing all ambient light is quite easy in a dedicated home theater – turn off the light and enjoy your TV show or movie. But in a media room that you use for purposes like a pool table or wet bar, other forms of lights may come into play.

In that case, you can use recessed spotlighting to light up certain areas of your room without putting much light on the screen or into the rest of the room. With all that said, you can install LED lights around the perimeter of your screen as they look cool and enhance the perceived contrast without impacting the screen image.
8. Consider Better Sound
Some home projectors come with built-in speakers, but they are not always sufficient. A big screen calls for a bigger sound than those that come with the projector. The best audio complement to a big video projected image is a surround-sound audio system that boasts of home theater receiver and various speakers. With this type of setup, the right connection option would be to connect the audio/video output of your source component to the home theater receiver and then connect the video output to your projector.
However, in case you don't want all the stress that comes with a standard home theater audio system, you can go for a soundbar that would offer a better solution than those that come from the projector speaker alone – and it can be placed above or below your screen. If you have a room of modest size, you can also pair an under-TV audio system with your video projector.
9. Select the Right Image Mode
Projectors feature preset image modes, so to get the best image possible, you will need to choose the right mode. The best mode for overall image quality in a dark room is usually Cinema or Movie.
You may want to select a brighter mode if you are dealing with ambient light. However, be aware that they usually have the distort green. Moreover, many of the home projectors on the market have a Game mode, but this type of model doesn't usually optimize input lag beyond what is offered by Movie mode.
10. Don't Pack Projector Up Immediately After Use
After you are done using your home projectors, do not switch off the whole setup at once. For instance, you can switch off the lamp and allow the fan to keep running so that it can cool the lamp gradually. You can do this by using the off button of the remote control.
We cannot overemphasize this precaution, especially when you think about the operating temperature of the device been a thousand degrees Fahrenheit. In fact, most projector lamp fails as the result of rapid cooling.
Conclusion
The best way to optimize the use of the home projector is to be creative. Get your hands on the best home projector, set it up nicely in your media room, and you are good to go. You will keep learning and discovering better ways to create a space you and your family will enjoy and make it look better for the next show. With that said, you can begin with the tips for using home projectors discussed above.
Leave a comment
Comments will be approved before showing up.