How to Upgrade the Projector Software?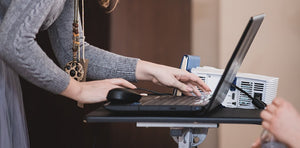 A projector is basically an optical device that delivers an image onto the surface in front of it. This surface could either be a whiteboard or a plain wall. Many people have projectors in their homes, offices, and schools. When it comes to watching a movie, you want a projector that can deliver the experience you desire.
Most of the time, projectors use a shining light through the transparent lens they have in order to create an image; however, some projectors do this by simply using a laser instead. It depends on how much you spent on the projector; the more money, the more advanced it will be.
Of course, a projector needs maintenance and upgrading its software from time to time. However, not many people are familiar with how to upgrade projector software and whether doing it has any significance. Therefore, in this post, we will answer this question along with other concerns people have regarding upgrading a projector software.
Projector Software for Android
Before we delve into the process of upgrading your projector software, let's have a look at the software available for Android users. There are several software updates for android projectors, and it might be difficult for you to pick the right one. However, since they all come with different and more advanced features of their own, choosing the right is actually easy. Upgrading your android projector's software is beneficial for many reasons, such as:
Simple wireless presentation
Managing functions is easier
Improved performance
Easily share and save files
Mirroring from smartphone to big screen whenever needed
Attractive presentations
Faster operations
There are several apps you could install on your smartphone in order to upgrade your projector. For installing an application, you can connect your smartphone to any available projector and begin mirroring. Besides, you don't have to worry about any sort of blurriness as the display will be as clear as it is on your smartphone.
Therefore, by using such applications and upgrading your projector, you'll be taking your presentations and movie nights to a whole new level. Some of the best projector software/apps for Android are as follows:
MultiPresenter
Panasonic Wireless Projector
ClickShare
Epson iProjection
Barco Projector Control
Projector Software for Apple (iOS System)
You'll also find many projector software for Apple (iOS system) users. Some of these apps come with amazing features that will surely provide you an experience you won't forget. For instance, you'll have access to higher quality images, along with multiple connection options, better sound quality, and more storage. However, you have to keep in mind that some of these are specifically for iPhone devices.
Epson iProjection App for iOS
Panasonic Smart Projector Control (application software for operating projectors using iPhone)
Panasonic Wireless Projector (also available for Android)
MultiPresenter by NEC Display Solutions (available for both Android and iOS system)
These are the top projector software for iPhone (iOS system) that have caught the attention of many people who want to bring the cinema experience into their homes.
Why Should You Upgrade Your Projector Software?
Once you buy some sort of technological device, you end up seeing more new and advanced versions of it. Therefore, you begin to wish you had bought that one instead. If you own a smartphone, you must know that the company that produced your phone might come up with a better version soon. Once they do this, they allow their users to enjoy some similar features that the new smartphones have.
There is no rocket science involved as they do this by providing a software update. Once you update your software, you can enjoy similar features that the newer version has. The same works with projectors, you want to upgrade the performance of your projector? You will have to upgrade the software.
Pros of Upgrading Projector Software
There are several benefits to doing this as well. For instance, if you're tired of your projector displaying blurry or unclear images, a software update could simply resolve this issue. However, if there is a problem with the lens, a software update wouldn't help. You have to make sure your projector doesn't have any other complications before you update it so that you can truly enjoy optimal viewing.
In short, upgrading your software will simply give you more options and add functionality, which will help you when it comes to a presentation in many ways. For instance, you can enjoy a better display, the sound quality will improve, and you won't have to worry about constant buffering.
What Are the Drawbacks?
While there are so many advantages, you must be wondering if there are any drawbacks of upgrading your projector software. Well, there are a few drawbacks, but these are common issues you'll find on any device. First of all, upgrading your projector software could slow things down. This means your projector might not be compatible with the upgrade and thus cause malfunctions. Hence, this could result in the projector to perform slower.
It's just like when you upgrade your phone and find issues in other apps or functions. Your projector may also have issues with downloading and mirroring because the upgrade might not be suitable for the projector. This why it is highly important to make sure you find the right software for your projector. If you own a cheap projector, you shouldn't choose an upgrade that you would find in an expensive projector.
How Can You Upgrade Your Software?
Well, if you're planning on upgrading your software, there are a few steps that you need to follow. This will help you with upgrading the software in the safest and most efficient way possible. Consider a few things before the process:
You must understand the format and capacity of the U-disk, i.e., the Format is FAT 32, and capacity can be 9- 32GB.
Do not use the device or power off the electricity during the upgrading process.
Follow the guidelines provided in the video or manual.
Here is a general guideline:
1. Unzip the Files
First, unzip the files when receiving the update and save it into the U-disk instead of saving them on a folder. We have mentioned the format and capacity of the U-disk above.
2. Plug Your Projector
You must plug your projector with the charging cable and the power adapter. Remember, if the projector shuts down while the upgrade is in the process, it may damage the software.
3. Start the Projector
Go ahead and power the projector on and let it load and start-up as it should until the home screen pops up. Once you see the home screen, move on to the next step.
4. System Update
When you start the projector, you'll see a software update option on the System Update icon on the projector's home screen if new updates are available. Click on it or check for updates instead. Always make sure to read through what the upgrade has to offer, but if you're still unclear, use other resources to find out more about it.
5. Final Step
Select the upgrade you want and leave the rest to the software. You won't have to do anything as the upgrade process will begin, and in a few minutes or so, your upgrade will be complete. Do keep in mind that the projector will restart once the upgrade completes, so don't worry.
Problem That Occurs During Upgrades
You may encounter several problems that may occur during an upgrade. However, most of these problems occur due to some common issues. Therefore, it is important to evaluate your projector's condition and capability before proceeding with an upgrade. Here are a few problems that may occur.
This happens a lot while upgrading your software and leaves you with neither the new version nor the old version. Therefore, you're basically stuck with nothing. This problem occurs when there is less disc space.
Another common error that occurs after the upgrade is when you notice several applications aren't working. Either they won't start or are very slow; however, you can solve this issue by upgrading your applications as well.
One of the scariest and heartbreaking errors is when you lose your old pictures and important documents which could contain your favorite movies after the upgrade. This is probably the worst scenario that you could face by upgrading your software, but it is easily preventable. All you have to do is secure your files, documents, pictures, and other important information in one place. You could even shift them to a USB and store back once the upgrade finishes.
You finally find the upgrade you want, but every time you click on it, it either says error or "upgrade not possible." This can be frustrating; however, there is a way around it. All you have to do is ensure you have the right hardware and components in your projector that would allow the upgrade.
Conclusion
If you're searching for the right software, you could do some research and find one that is compatible with your projector. Many people end up upgrading the wrong software and have to bear other complications, as we mentioned above.
As you can see, upgrading the software following the right steps is essential. If you do it the right way, you'll enjoy the benefits and using your projector will be more fun for you. If you're worried you won't be able to upgrade it by yourself, you can always ask someone who has some knowledge related to this.
We will advise you always to follow the steps of upgrading your projector and ensure you save all your files and important information in a safe place before proceeding with the upgrade.
Leave a comment
Comments will be approved before showing up.