What is the Best Screen Format for a Home Projector?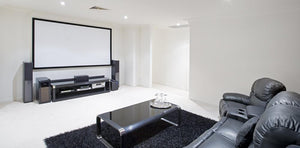 When setting up your home theatre, one of the most important decisions you'll have to make is the screen format to go with for your home projector.  The size and surface are other variables that matter in the selection process, but the aspect ratio is the most important of them all.
The aspect ratio refers to the ratio of width to height of any rectangle.  The dozens of projector screen options in the market have a wide variety of aspect ratio formats.  The popular screen format options include the following:
HDTV 16:9 Format
HDTV home projector screens come in the 16:9 aspect ratio format. They are the optimal format for most home theatre arrangements because they deliver the best widescreen viewing experience. This screen format works great with projectors that support viewing in:
720p HD (1280 x 720) resolution
1080p HD (1920 x 1080) resolution
4K UHD (3840 x 2160) resolution
It is easy to find screens in the 16:9 aspect ratio.
Widescreen PC 16:10 Format
The rise of widescreen PCs has helped to increase the popularity of this home projector screen format. Screens with this format best match up with projectors that deliver:
WUXGA (1920x1200) resolution
WSXGA+ (1680 x 1050) resolution
WXGA (1280 x 800) resolution
This screen format option is more likely to be found in an office environment than a home theatre, but it is still a great option for consuming your digital content at home.
Cinema 2.35:1 Format
The Cinema 2.35:1 format is another great format for a movie screen experience.  Also known as the anamorphic format, it is commonly used in cinemas due to its full field-of-view feature.  If you are looking to recreate the cinema experience in your home, it should be high on your list.
Video 4:3 Format
Do you want a home projector screen format that is similar to the average television? The 4:3 ratio should be high on your list. This aspect ratio has been in existence since the first televisions hit the market and has only grown in popularity ever since. This screen format works best with projectors that allow viewing in:
QXGA (2048 x 1536) resolution
UXGA (1600x1200) resolution
SXGA+ (1400 x 1050) resolution
XGA (1024 x 768) resolution
Many people love this screen format because it allows seamless switching between widescreen viewing and full-screen viewing.
Square 1:1 Format
This is another screen format that is popular in corporate environments instead of the home. However, you can choose this option if your home projector is mounted overhead. Depending on the height of the screen, you can easily achieve multiple aspect ratios.
These are the leading screen format options and the home projector types they should match up with. Do you want to choose your screen format for a home projector based on the kind of content you'd like to watch? Read on!
Choose the Cinema Format for Versatility
Many people choose the cinema projector screen format for their home theatre because it allows flexibility to watch all kinds of media content without worrying about black borders.  Most movies in the market today come in the Ultrawide format. This format sits perfectly on the 2.4:1 aspect ratio of a cinema projector screen regardless of whether you use an anamorphic lens or not.
Choose the HDTV Format for HDTV Content
Do you mostly watch HDTV content in your theatre?  The 16:9 ratio projector screen format should be your preferred option. This is the perfect choice if you use your home theatre for more than just movies. High definition content such as sports, news, TV shows, as well as some movies, look great on these screen types.
If you are watching HD content that has black bars at the top and bottom of the screen, it was most likely made for commercial theatres first. This is the case if you are watching movies via satellite or through streaming services such as Netflix and Amazon. So, don't fret if your High Definition channel is showing content that doesn't fit with your HDTV screen format. The "fault" is from the source, not the channel.
Can't make up your mind? Choose the Cinema Format
If you regularly watch HDTV with your projector and also watch Ultrawide format movies regularly, it may be challenging to choose a screen format. In this scenario, selecting a 2 .4:1 format project screen with a screen frame border that is at least 90mm or 3.5" wide is the safest alternative. Consuming video content with the black bars around the screen can take away part of the fun from the viewing experience.
Frequently Asked Questions
What is a home projector screen?
A home projector screen is a white reflective surface hung on a wall a short distance away from the projector. It is where digital files processed by the projector are displayed. Projector screens are the preferred option for home theatres due to the higher reflectivity, which ensures clearer pictures.
Are projector screens supposed to fit in dedicated spaces?
No, you can fit your projector screen anywhere you choose in your home theatre.  Some screens are mounted on the wall while others are mounted on the ceiling. Some people buy mobile projector screens on tripod stands for use indoors as well as outdoors.
What projector screen formats should I buy?
When discussing the format of a projector screen, the focus is often on the aspect ratios.  Your choice of the screen should be guided by your unique needs. Although many people buy projector screens that have a 16:9 aspect ratio, you may be better off choosing a 2.4:1 aspect ratio for richer media consumption.
What is a motorized home projector screen?
A motorized projector screen is designed to descend from an elevated height when in use, and it retracts when it is not in use.  They are often chosen for the fact that they save space and their aesthetic appeal. The external housings on many motorized projector screens are designed to be replaceable.
This makes it easier to blend them into the surrounding environment. The ceiling-recessed motorized projector screens are designed to fit completely inside your ceiling, dropping down only when you need it. Motorized screens are often controlled with a remote or a wall switch. Some options are designed to fit into the larger home automation structure.
What is a manual home projector screen?
A manual home projector screen does everything a motorized screen can do, but extension or retraction can only be done through a pull-cord instead of a motor. Manual screens weigh less than motorized and are generally more cost-effective.
What is a tripod home projector screen?
A tripod home projector screen features three legs that can be extended to support the projector screen in your preferred position in the home theatre. When the screen is not in use, the legs can be collapsed for easy stashing away. This is the preferred option for people that want a portable home theatre projector screen. However, the dimensions on a typical tripod home project are not optimal for regular transportation. If you'd like a home projector screen you can move around with ease frequently, a folding screen is your best bet.  Most tripod home projector screens only come in the square (1:1), video (4:3) and HDTV (16:9) formats.
What is the best projector home theatre screen surface to use?
There are a plethora of options to choose from, including matte white, high contrast, grey and glass bead.  The matte white screen surface is the most versatile and will fit into a wide range of home theatre setups. Glass bead surfaces are the least versatile as they only work with older projectors.  Using them on modern digital projectors will lead to poor image quality.
Which projector screen type is best for an outdoor theatre?
Most tripod projector screens are designed for outdoor use. However, they are not built to withstand adverse weather conditions. Similarly, the lightweight design may lead to the projector falling over in mildly windy conditions. To prevent this, you should either consider using weights to tie the screen down or go with inflatable screens. These screens, often packed with a pump, are a more durable alternative for outdoor use because they can tolerate mild rains.
Can I mount a home projector screen on my own?
This depends on the projector screen option you have chosen.  Most people can set up foldable or inflatable home theatre projector screens.  With more complicated options, however, you may need to call in the technicians. This is especially true for all kinds of motorized projectors as well as ceiling-mounted manual projector screens.
Conclusion
To choose the best screen format for your home projector, you need to pay attention to your projector model and the picture quality it supports as well as your unique video content consumption needs. By choosing the right aspect ratio that best represents your viewing needs, you can ensure a high-quality viewing experience most of the time. Still confused? Ask for a demonstration from your local dealer.
Leave a comment
Comments will be approved before showing up.